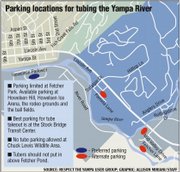 For more
For questions about tubing regulations and suggestions, call the Steamboat Springs Parks, Open Space and Recreational Services Department at 879-4300.
Steamboat Springs — If you sit long enough by the edge of the Yampa River, you can see the season changing. Not by the colors of the leaves or the temperature of the air, but by the occasional tube intermixed with the kayaks and rafts that can be seen floating down the high water.
It's almost officially tubing season, and as the water nears the perfect level for leisurely floating, community and government groups again are reminding tubers of the regulations and urging them to be considerate of other river users.
Tubers are discouraged from putting in upstream of Fetcher Park, partly to respect the anglers' designated area, but mostly to reduce the impact tubers have on wildlife habitat through trash left in the river.
"Litter, to me, is the overwhelming detriment to the river, and the things that encourage litter are alcohol use, and people going down the river and they don't really know any better," said Peter Van De Carr, owner of Backdoor Sports and member of the Respect the Yampa campaign. "They don't know you can't take litter on the river because chances are very good you're going to get upset, and you're going to get dumped over" and spill trash.
Van De Carr and the campaign members are distributing fliers to sellers of tubes in an attempt to urge tubers to follow river regulations.
City Open Space Supervisor Craig Robinson said many of the regulations are not yet laws, after the Colorado Division of Wildlife's proposal to implement increased legal regulation was rebuffed earlier this year in favor of the 2004 Yampa River Management Plan.
"No alcohol is actually a law, but other things are respecting other users, which should be common sense, but we're hearing from other users that we're not at that level yet. That's the level we're reaching for," he said.
The 2004 plan calls for no tubing access upstream of Fetcher Park, and no access at River Creek Park or Rotary Park.
Tubers may park vehicles in the limited spaces at Fetcher Park to put in downstream or at Howelsen Hill near the rodeo grounds. For pick-up, tubers are encouraged to park at the Stock Bridge Transit Center.
"The reality is the downstream stretch, from Fetcher down or Fifth Street down, is a much more exciting, more accessible stretch," Van De Carr said.
- To reach Zach Fridell, call 871-4208 or e-mail zfridell@steamboatpilot.com