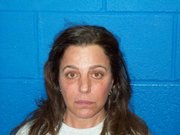 Marie Jensen chose to waive her right to a preliminary hearing this morning as a request to continue the hearing was denied by Judge James Garrecht.
Jensen's lawyer, Kris Hammond, told Garrecht that he had recently sent a long memorandum to Routt County Deputy District Attorney Carl Stahl raising questions about the search of Jensen's Old Town home. Jensen is accused of growing and distributing drugs from her house.
Garrecht replied that the case must move forward because of the 90-day limit on keeping cases in his county courtroom. Hammond said he agreed with Stahl that if the preliminary continuance was denied, he would waive the right to the hearing.
The felony summons for Jensen was issued Feb. 24 in connection with the marijuana operation discovered Feb. 7.
Jensen is next scheduled to appear in District Court at 1:30 p.m. July 30 for a preliminary hearing on the Class 3 felony charge.
Jensen is only entitled to a hearing on the Class 3 felony charge of possessing more than 1 gram of a Schedule 1 controlled substance - psilocybin mushrooms. She also is charged with possession and cultivation of marijuana, and possession of marijuana, both Class 4 felonies; possession of 8 ounces or more of marijuana, a Class 5 felony; and another charge of possession of a controlled substance of 1 gram or less, a Class 6 felony.