Student awards
Community Service Award
Kaeli Nolte
Friend to all
Daniel Wright
Dean of Students Award
Ben Von Thaden
Academic Dean Award
Sarah Baumgartner
Head of School Award Robert "Bobby" Rankin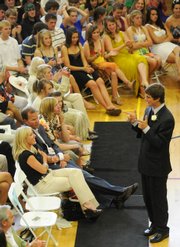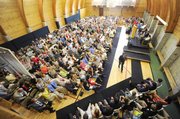 Steamboat Springs — From the moment The Lowell Whiteman School's class of 2009 entered the gymnasium to Buffalo Springfield instead of "Pomp and Circumstance," it was clear Friday's graduation wasn't going to be your typical commencement exercise.
With 32 graduates, the ceremony was atypical even by the school's standards. The private high school in Strawberry Park has graduated that many seniors only once before. And never have so many graduates - 19 - attended Lowell Whiteman all four years of high school.
Twenty-one 2009 Lowell Whiteman graduates have received scholarships totaling $188,750. They will attend several schools in Colorado and across the country. Buddy Kinder will enroll as a cadet at the U.S. Air Force Academy in Colorado Springs.
"We are all very proud of them and what they've accomplished," said Nancy Ventrudo, president and chairwoman of the school's board of trustees. Ventrudo noted that Lowell Whiteman has not been immune to the nation's economic troubles, but she said the school remains committed to providing an education "as special and vital going forward as it has been for this class and the classes that preceded it."
Robert "Bobby" Rankin won the Head of School Award, which Daub said is given to a student who has dedicated himself wholeheartedly to the school and contributed to the positive experience of everyone at the school.
"Sometimes listening to Bobby is like listening to the audio recording of a text book," teacher Margi Missling-Root said about Rankin. "I am convinced that he will invent, design, create and solve some of the problems in our world. He's that good. : Even though you can't understand him sometimes, he will be dearly missed."
The school's 52nd graduation was held in memory of Wilbur Brown, former trustee emeritus; Gertrude Fetcher, former faculty and trustee emeritus; Wayne Kakela, former faculty and trustee emeritus; John Fetcher, former trustee; Bob Bear, former faculty; and Benita Bristol, former staff.
Per tradition, students were individually honored in short speeches by a faculty member of their choosing. Although brief, the speeches were heartfelt and candid. They celebrated students' personalities and strengths and made light of their weaknesses.
"Blake Eddington loves sports and just about any athletic activity," Daub said in the first such speech, "but he loves them most with friends."
After Joe Roberts spoke about graduate Daniel Wright's skills as a beatboxer, Wright was forced to show off his talent before receiving his diploma.
For anyone who knew nothing about the school, its cornerstones - which include a winter sports program, study abroad opportunities and wilderness education - and philosophy were revealed through the speeches. Teachers relayed stories not just from the classroom, but from the residence halls where they live together with the students, the rivers they've kayaked, the trails they've mountain biked and the countries they've explored.
The teachers obviously were a big part of their students' lives, but as the speeches progressed, one got the sense that the opposite was true, as well. That suspicion was confirmed in the final speech of the afternoon, when teacher and Dean of Students Mitch Globe honored his "hero" Holly Mayer.
"We are supposed to mentor the kids and make them stronger," Globe said. "What a gift it is when it goes the other way."