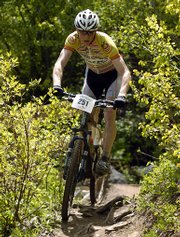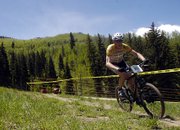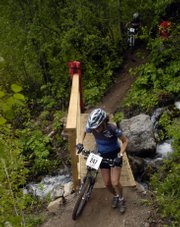 Steamboat results
Men's Pro
1. Carl Decker, Bend, Ore., 1:53:12
18. Barkley Robinson, Steamboat, 2:00:49
21. Brad Bingham, Steamboat, 2:02:30
32. Adam Parke, Steamboat, 2:06:33
41. Jamie Morgan, Oak Creek, 2:10:42
Men's Expert
1. Scott McCalmon, Boulder, 1:33:55
8. Cory Piscopo, Steamboat, 1:37:42
28. Craig Rench, Steamboat, 1:45:29
62. Jeff Minotto, Steamboat, 1:56:55
Men's singlespeed
1. Charlie Hayes, Boulder, 1:05:04
3. Jon Freckleton, Steamboat, 1:06:22
5. Doug Karet, Steamboat, 1:08:35
Women's expert
1. Tiffanie Beal, Boulder, 1:56:15
10. Kate Rench, Steamboat, 2:12:40
Women's Pro
1. Katie Compton, Colorado Springs, 1:34:22
17. Kelly Boniface, Steamboat, 1:49:36
Vail — Sometimes, the course won.
The gnarly trail that defined Saturday's cross-country mountain bike race at the Teva Mountain Games in Vail took riders swooping around Golden Peak, high up into the resort's massive ski area, and back down a tight, twisty nightmare of singletrack. It was so fierce that many of the best riders opted to carry their bikes through certain spots. One woman was so frustrated, she just rolled her bicycle down the path.
For many of Steamboat's finest, however, Saturday was an opportunity to butt helmets with some of the best riders in the world.
The "best" came out ahead, showing why they have the fat sponsorships and Olympic team spots. Steamboat's riders came out pretty well, too.
"It's a tough course, but it was a lot of fun," Steamboat resident Kate Rench said. Rench traveled with her husband, Craig Rench, to compete in Saturday's race.
The pair are veterans of Steamboat's Town Challenge circuit, but they were new to the enormous and competitive field typical at a Teva race.
"We feel pretty good," Craig said. "Our goal was to finish the race in our first year in it, and we did."
Routt County was well represented in the early afternoon race. Eleven local riders rode in the expert and pro divisions.
Cory Piscopo finished eighth in the men's expert division. Craig Rench was 38th in the expert field, and Jeff Minnoto finished 62nd.
Barkley Robinson was 18th in the men's pro class, and Brad Bingham finished 21st. Adam Parke was 32nd in men's pro, and Jamie Morgan was 41st.
Kate Wrench finished 10th in women's expert. Kelly Boniface, meanwhile, was 17th in women's pro one
year after winning the expert division.
Jon Freckleton finished third in the men's singlespeed division, ahead of Doug Karet, who was fifth.
Even some tackling the highest tier division, the pro class, were happy just to walk away having completed the necessary 5-mile laps. The men's pro division was required to make four circuits while everyone else did three.
"This was my third in a row," Morgan said. "It's the first year I've finished it, so it feels great."
Morgan blew a tire two years ago and withdrew 80 percent of the way through last year's race. The 39-year-old said he has grown used to seeing the children of his one-time mountain biking rivals blow past him and that there still was plenty of thrill to be had in lining up with the nation's best.
"I felt pretty good about my ride, but I do it for fun at this point in my life," he said. Morgan said. "It was great."
Morgan, like nearly all of Steamboat's riders in Vail, said the course was difficult. It changed this year to include more of the tight, turny downhill that caused so many problems.
"Problems," when it related to Saturday's course, was relative.
"The downhill was my favorite part," Kelly Boniface said. "Every lap, I was looking forward to that. It was so fun."