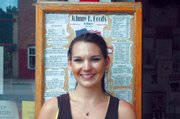 Steamboat Springs — Age: 26
Occupation: Massage therapist; waitress at Johnny B. Good's
Place of birth: Idaho
Q. When did you move to Routt County, and what brought you here?
A. 2000, beautiful mountains.
Q. What's the biggest risk you've taken recently?
A. Driving to Denver.
Q. What's the best piece of advice you've ever been given?
A. Don't live in the past.
Q. What three things would you want people to know about you?
A. I'm kind, genuine and trustworthy.
Q. If you could invite any four people to dinner, who would they be and what would you talk about?
A. Mikey, Kailey, Laurie and Marya. Who knows, it's always interesting.
Q. Do you collect anything?
A. Shoes and sunglasses.
Q. In the Meatloaf song, "I'd do anything for love, but I won't do that," what is that?
A. Skydive.
Q. What was your first job?
A. Footaction. I was a cashier and salesperson.
Q. Who is your favorite superhero? Why?
A. Batman, because he is Christian Bale. Oh, and Mike Diemer.
Q. Do you have a tattoo? If so, what of and why did you choose it?
A. Sun/moon on my back. It was what I wanted when I was 18.
Q. Do you have any phobias?
A. Yes! Heights and driving in the mountains.
Q. If you could go back in time, to what event or time period would you go?
A. Western days, so I could ride horses to the bar.
Q. What is your favorite thing to do in Routt County?
A. Hike, jog, anything outdoors.
Favorites
Color: Yellow
Food: Pizza
Sport to watch: Ice hockey
Vacation spot: Hawaii
Recreational activity: Outdoorsy stuff
Movie: "Bruce Almighty"
Magazine: Any star mags