If you go
What: 28th annual Steamboat Marathon
When: Today, starting at 7:30 a.m.
Where: The day will include a 26.2-mile marathon, which starts near Steamboat Lake; a 13.1-mile half-marathon, which starts on Routt County Road 129; and a 10-kilometer race in Steamboat Springs. All the races will finish on Lincoln Avenue in front of the courthouse in downtown Steamboat.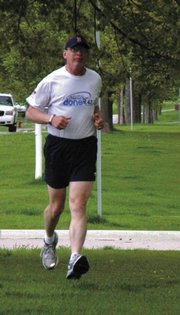 Road closures
- The westbound lane of Lincoln Avenue will be closed from 6 a.m. to 3 p.m. between Fifth and 11th streets, with each of those streets closed between Lincoln Avenue and Oak Street.
- On Routt County Road 129 from Cullens Corner to the start of the half marathon, there will be one-way traffic controlled by a pilot car leading traffic on the southbound side of the road.
- Northbound traffic on C.R. 129 will be diverted to the left lane just past the entrance to Elk River Estates and proceed north to Cullens Corner where traffic controllers will be in place.
- Southbound traffic on C.R. 129 will be diverted at Cullens Corner onto C.R. 44 then back onto C.R. 129 just north of the airport.
Steamboat Springs — The last 100 or so meters of a race often are the best. They hold a certain allure for runners. That final stretch symbolizes the end where the endorphins are the highest and where the weeks, months, years or even a lifetime of training for a goal are just a few strides away from coming to a close.
For Dan Jongeling, those last 100 meters have proven particularly difficult.
Last year, during the 10-kilometer portion of the Steamboat Marathon, Jongeling's life changed on Lincoln Avenue, just a mere 100 meters from the finish line.
There, Jongeling - an attorney with a legal aid office in Rapid City, S.D. - collapsed.
"I was looking out to the west and one runner absolutely dropped as if Joe Frazier gave him a knockout punch," said Rob Powers, who was announcing the event from the finish line in front of the historic courthouse. "I've been doing this 22 years, and I've seen people go down plenty of times. The way he fell told me instantly it wasn't a trip and fall. It was the kind of fall you instinctually knew that it was medical."
Jongeling's heart rate had exceeded 225 beats a minute. His heart couldn't take it, and cardiac arrest set in.
"That's a day that will always stick out in my mind, as well," said Chuck Cerasoli, a lieutenant paramedic with Steamboat Springs Fire Rescue. Cerasoli and partner Joe Oakland were the first to arrive on the scene.
"The key in arrest like that is to get CPR going. I think it's important that people learn how to do basic CPR. Understand and learn it's not hard to do. It's a life-saving step."
Within two minutes and after one shock from heart-resuscitating defibrillators, Jongeling was breathing again. Within 10 minutes he was in an ambulance on his way to Yampa Valley Medical Center.
"Going down it felt like a curtain going down," Jongeling said. "I had a couple thoughts. The first was, 'This doesn't feel right.' The second was, 'I hope this isn't the big one.'"
Fortunately, it wasn't.
But that fall in the last 100 meters has changed Jongeling's life forever. He has quit smoking, changed his diet, lost 20 pounds and, more important, said he feels as good as ever.
He's even run two half-marathons since last June.
"I think about that day every day," Jongeling said. "Every day as I'm finishing my run, I always keep an eye on my heart monitor the last block."
Bumpy road to recovery
Jongeling regained consciousness in the ambulance. He told doctors at Yampa Valley Medical Center that he felt fine, but he was flown to Loveland anyway so medical professionals could really check him out. Doctors there decided he needed a quadruple bypass. Jongeling wanted to do the procedure in South Dakota where he would be closer to his family and wife, Amy Yanni.
Against doctors' orders, Jongeling took a bus from Loveland to Denver International Airport to catch a flight home. The next day, he had open-heart surgery.
After the surgery, Jongeling's cardiologist called him and told him he had a heart arrhythmia. Doctors wanted to go back in and put an Implantable Cardioverter Defibrillator in his chest. Jongeling at first balked at the surgery.
"I was thinking, 'Boy, I just had open heart surgery where they cleaned the arteries. What's the problem?'" Jongeling said. "I ultimately decided I didn't need one."
But in early October after Jongeling had started running and training again, the need for an ICD became apparent.
"I came in from a regular run in October and came home, and he had fainted in the dining room (while) still in his running stuff," his wife said.
Days later, Jongeling went in for his second surgery, and doctors inserted the ICD.
A new outlook
Jongeling slowly started training again. With the aid of a new diet and Yanni - a woman who has completed more than 100 marathons - Jongeling got back on track and ran a half-marathon in Tallahassee, Fla., in early February.
Although he admitted to being a bit nervous before his return to a running event, his wife is a much different case.
When Jongeling collapsed in Steamboat, Yanni was in the midst of running the full marathon. A crew worker found her on course to tell her Jongeling had collapsed.
She continued running and completed the race before catching up with her husband at the hospital.
In Tallahassee, Yanni - who was running the marathon - had a flashback.
"I was pretty far along, like mile 18," she said. "A police officer on a scooter came at me. I just panicked and was making sure he could see me. He just went past me. It was great. Everything I say sounds trite, but finishing that was truly very meaningful for us."
Although the couple won't be back for today's Steamboat Marathon because Yanni is hurt, they intend to return in the near future.
Besides, Jongeling has to finish those last 100 meters.
"Instead of running 6.2 miles, I ran six," he said. "But it would mean a lot. It would. I've crossed some finish lines, but crossing that one would feel really, really good. I would finally know I was back."