Edgemont puts a lid on it
Luxury condo project topped out and ahead of schedule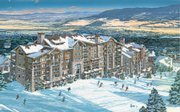 Steamboat Springs — Edgemont topped out to its final height of eight stories ahead of schedule late last month, and already contracted owners who want turn-key furniture packages are being asked to finalize their choices.
"These are the times when your head is spinning," said Garrett Simon, vice president of development for The Atira Group. "We're ahead of schedule, and we want our owners to be able to spend as much of ski season as possible in their new homes."
Edgemont is due to be complete in late February, but Simon said general contractor GE Johnson worked effectively through the winter's 400-inch snowfall, ensuring that all but one of 16 concrete pours was completed on schedule. As a result, the project is several weeks ahead of schedule.
Performance Concrete and Native Excavating are local subcontractors who have played a significant role in the construction of Edgemont.
Each level of Edgemont is built using pre-tensioned concrete. But construction workers are well beyond that stage now, installing drywall and even painting, beginning from the ground floors up. Dark brown kitchen cabinetry is being installed in a few units.
Many owners will opt to make their own arrangements for interior design and furnishings, Sales Director Mark Murrell predicted. However, Atira has partnered with Slifer Designs, of Edwards, to create detailed furniture packages for owners with 35 pages of choices from beds right down to area rugs and artwork for the walls.
The rustic mountain package developed by Slifer's designers includes some peeled log furniture in the bunkrooms and throw pillows in classic fur trapper blanket material. However, taken as a whole, the rustic packages vary subtly from the refined mountain package; both include two-dimensional art that reflects modern interpretations of classic wildlife and cowboy images.
A discernible trend among the 21 contracted buyers at Edgemont is the consolidation of two neighboring condominiums to allow for individual floor plans with more flexibility in terms of game rooms and home theater spaces, for example.
The condominium homes at Edgemont range from one-bedroom units to a 4,000-square-foot unit with five bedrooms.
"One buyer purchased a four-bedroom unit and bought another unit to get improved ski-in, ski-out access," Murrell said.
Another owner, with four
bedroom suites in his condo, has added space to allow a home theater and dog-washing station. The owners are contemplating two outdoor fireplaces on the wrap-around, 750-square-foot decks.
The Edgemont building nearing completion is named Edgemont Ridge with a similar condominium building, Edgemont Landing, to follow in phase two. Phase three would comprise a cluster of seven duplex buildings on the site that borders the southern edge of the ski trails at Steamboat Ski Area.
Edgemont Ridge includes a lobby lounge and community mudroom with direct access to the slopes, plus locker rooms for the outdoor pool. Edgemont Landing will include a check-in facility and spa for the project.
The developers hope the impending completion of Edgemont Ridge will stimulate potential buyers who have expressed interest for a length of time but remain on the sidelines. Murrell pointed out that, regardless of the prevailing market conditions, it's always easier to sell from a nearly completed building than it is from brochures and drawings. However, the developers won't speculate about when sales might stimulate the sales process for Edgemont Landing.
"There are still a lot of interested people who are telling us, 'At some point, we're going to make a decision,'" Simon said. "That's why we're so excited with where we are right now."
Murrell said the current phase of development also is a time when owner engagement with the project is heightened, and he is hopeful the word-of-mouth factor that helps to sell resort condos will begin to grow.
Atira contracted for the sale of 22 of 42 units at Edgemont Ridge during a May 30, 2008, sales event, representing $45 million in sales.
Of the 22 original contracts, one buyer notified the developers within the seven-day recision period that he or she did not intend to stay in the contract and was released.
The remaining 21 buyers initially put down 10 percent on condominiums ranging in price from $900,000 to more than $3 million, meaning there were buyers who wrote checks for $300,000 to $400,000, Simon said at the time.
Subsequently, buyers were required to put up another 10 percent in mid-construction.
Simon said he expects many buyers will arrange their own financing, however Atira Group has arranged for financing locally through Millennium Bank, as well as through Bank of America.
It's so common for real estate projects and custom home developers in Steamboat to tout "panoramic views" that it's easy to become immune to the term. But it's not easy to overlook the way the large roof gables spanning 14-foot great room ceilings at Edgemont Ridge frame views of the ski area base and the south valley.