Class notes: Steamboat graduate earns master's from CU-Denver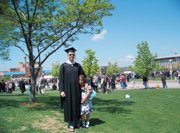 Steamboat graduate earns master's from CU-Denver
On May 16, Mark A. Perkins received his master's degree from the University of Colorado, Denver. In addition, the faculty members of Educational Psychology Research & Evaluation program selected Mark as the Outstanding Graduate in his program. He will continue to pursue his doctorate at Colorado State University in Fort Collins in September. Mark is a 1997 graduate of Steamboat Springs High School. He has taught middle school in Colorado Springs for three years and in Grand Junction for three years, as well.
Steamboat native receives prestigious business degree
Steamboat Springs native Justin Krause recently graduated with honors from the Wharton School at the University of Pennsylvania. Krause, a 2005 Steamboat Springs High School graduate, also was named to the dean's list for earning a grade point average of 3.7 or above. He earned a degree in real estate finance and accepted a position with a real estate investment trust on the east coast.
2007 Steamboat graduate earns automotive degree
Daniel H. Gayer, known as Dano, son of Dwight and Kathy Gayer and a member of the 2007 Class of Steamboat Springs High School, received an Associate of Applied Science, Automotive Technology degree from Northeastern Junior College on May 15. Dano also was awarded the Napa Vocational Educational NJC Student of the Year award for 2008-09. Dano will work as an automotive technician at Bob's Downtown Conoco.
Steamboat grad receives University of Denver degree
Chris Ruff, a 2005 graduate of Steamboat Springs High School, graduated Saturday from the University of Denver with a major in geography and a double-minor in geology and environmental sciences. Ruff also received the University of Denver's Geography Merit Scholar Award for the second year in a row. Ruff will return to Steamboat this summer to work for the Routt National Parks on a hydrology project, mapping water sources in the National Forest.
Steamboat grad receives Master of Arts degree
Zach Moore, who graduated in 2000 from Steamboat Springs High School, received a Master of Arts degree in Masters International Peace Corps and Environmental and Natural Resources from the University of Wyoming in May 2009. Zach and his wife, Amy, returned from their 27-month Peace Corps service in Mongolia in July 2008 and have settled in Salida.
Hayden career, technical center gets another grant
The Hayden School District's Babson-Carpenter Career and Technical Education Center was awarded a $15,000 grant from the El Pomar Foundation, of Colorado Springs.
Kevin Kleckler, the center's director, said a $75,000 grant the district recently received from the Gates Family Foundation and $140,000 from the Twentymile Coal Co., to provide welding certification for employees of the company, would pay off most of the remainder of the loan on the $1.6 million addition to the facility.
The district began using the facility, which offers welding, building trades, furniture building, auto mechanic, auto body collision and refurnishing and drafting classes, in November.
Kleckler said he's still trying to raise money for furniture and lockers for student use at the center but that it's well on its way to providing a safer learning environment for students in the Yampa Valley.
"They get a higher level, higher quality learning experience," he said. "This has been huge. It's such an asset for our valley to train them in trades that are viable for the rest of their lives."
Soroco High School 2nd semester honor roll
Seniors who earned 4.0 grade point average: Kimberly Rossi, Sarajane Rossi, Traci Schlegel, Dana Shaffer and Clinton Koler. Juniors: Katie Grett, Amber Maes, Nathaniel Meadows, Cody Miles and Matthew Watwood. Sophomores: Caitlyn Berry and Alexandra Smith. Freshmen: Lauryn Bruggink, Kayla Harves and Zane Elston.
Seniors who earned a GPA between 3.5 and 3.99: Nahila Bonfiglio, Jephery Donaldson, Tatum Lombardi, Kendra Parker and Elizabeth Strait. Juniors: Gage Achtner, Alex Estes, Amber Larsen, John Lipsie, Julia Luciano, Sean Price and Shelby Viele. Sophomores: Leif Carlson, Austin Carnahan, Jacob Hange, Racheal McElroy, Cassandra Meyer, Charrell Ondrejka, Wesley Peters, Ceanna Rossi and Corey Snyder. Freshmen: Kaare Buck, Ellicia Fuller, Lindsay Miles and Shelby Miles.