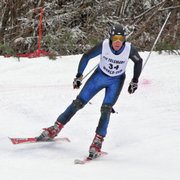 Steamboat Springs — Lorin Paley was thrilled when she learned she had been named to the U.S. National Telemark Team last month, but she was even happier when she discovered her brother is joining her on the "A" team.
"It was great news," Lorin said about her older brother's "A" team selection. "I kind of expected to make it after last season, but I wasn't so sure about Ben. It's pretty competitive on the men's side, so when I heard he had made the team, it was awesome news."
Ben said he also was surprised by the news but that he thought he had a shot after placing third overall at the U.S. Telemark National Championships, which were held in Steamboat Springs in March.
"I had an up-and-down season last year," Ben said. "It was really hard. I didn't race that well in Europe, but then I came back and finished third at the nationals."
The finish was good enough to earn the Steamboat Springs skier a spot on the national team for the 2009-10 season. His sister, who was edged by Kelsey Schmid-Sommer in a tiebreaker for the title, was second at nationals.
The brother and sister will be joined on the national team by several other Steamboat skiers. Steamboat's Charlie Dresen and Shane Anderson also made the "A" team cut. Anderson, who lives part time in Steamboat, was second at the nationals. Dresen finished in fourth.
Other members of the "A" team include Silverthorne's Drew Hauser and Boulder's Eric Lamb. Schmid-Sommer and Peter McMahon, both of Whitefish, Mont., also were named to the team. Lamb also is from Whitefish but now lives in Boulder.
The "B" team will include Steamboat's Jeffrey Gay, Ken Recker and Erika Walters. Suzanne Pattinson, of Sandpoint, Idaho, and David Hobbs, of Whitefish, also were named to the team.
Three of the four-person development team are Steamboat's skiers. Elizabeth Klemer, Madi McKinstry and Ze Taylor were named to the team. Taylor spends part of her year in Steamboat and the rest of the year in Atlanta.
Lorin may have been pleasantly surprised to see her brother named to the men's "A" team, but the number of Steamboat Springs skiers on the national Telemark team didn't surprise her.
"The Steamboat Springs Winter Sports Club has a huge junior program, with a bunch of great coaches," Lorin said. "They push us to be better competitors, and we push each other on the slopes. We are a really close group."
Lorin said she is happy to have her brother on the team with her.
"He's my best coach," Lorin said. "He's always been there for me, and he always knows what to say to get me going."
Ben expects to compete hard next season, but he also will leave to attend college at the Colorado School of Mines in Golden.
"I don't think I'm going to have as much time to train," Ben said. "But we will just have to wait and see how things go. School is a priority, but I also want to keep racing."