Audio clip
"Won't Be Coming Back" by The Infamous Stringdusters
Past Event
Friday, June 5, 2009, 7 p.m. to midnight
Ghost Ranch, 56 7th Street, Steamboat, CO
Not available / $12 - $14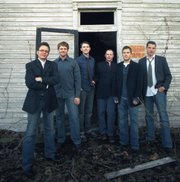 The Infamous Stringdusters might live in Nashville, but bassist Travis Book is quick to point out that music scene's diversity.
A band of six bluegrass-fed pickers from New York, Colorado and points between, the Stringdusters have spent the past three years pointing out two records on the Sugar Hill label and have moved away from their newgrass roots to create a sound that's as much jazz, rock, blues or any other American music as it is bluegrass.
The group plays at 7 p.m. today at Ghost Ranch Saloon. Book, a Colorado native, spoke with the Steamboat Pilot & Today about his band's varied nature, ability to play outside the lines and desire to do that more.
SP&T: How would you describe The Infamous Stringdusters?
TRAVIS BOOK: We're sort of in the same tradition as a lot of what could be dubbed newgrass acoustic acts, like Sam Bush, Jerry Douglas, that sort of music. But the band does a lot of genre shifting.
SP&T: What do you mean by "genre shifting?"
TB: I think that the band is unique in that it really spans a lot of sort of stylistic (areas), and within that genre there's a lot of sort of subgenres. You've got your Leftover Salmon school that's a lot of high intensity jamming, and you've got other stuff that sounds like bluegrass and has jazz influences.
SP&T: How does your band's sound fit into that Colorado jamgrass scene?
TB: We've been touring out here and spending a lot of time out here : and that's really influenced our sound. It feels to me, having grown up around Leftover Salmon and Yonder Mountain String Band, it seems like this band sort of covers the entire spectrum.
SP&T: Being based out of Nashville now, has that influenced the way your band functions?
TB: Nashville has a really vibrant acoustic music scene and the central location just can't be beat. : To call us a Nashville band is sort of a misnomer. : Nashville really attracts a lot of who I think are some of the best musicians in the world. They live in Nashville, so we get to rub elbows with Bela Fleck and Sam Bush. And even just our contemporaries, when we get together to jam at parties, it's not like there are some people that are good and there are some people who are just learning to play. It's like everyone there is an amazing musician.
SP&T: The Stringdusters are starting work on a third record. Where do you think the band's sound will go in that process?
TB: (On the first record) We were very much like a progressive bluegrass band, and I feel like the last record was a step away from that, and this record will continue that. It's music that is its own entity, and it incorporates a lot more elements of jazz improvisation and some pop sensibility.
SP&T: Where does the band get those different musical elements?
TB: Everybody who listens to a lot of music gets into those records where there's a sense of cohesiveness. : Most bluegrass is just like a collection of songs, but we really want to make something that has more of a cohesive feel and sort of gathers around a unified concept.
We're constantly listening to all kinds of different music and learning from other bands. Everybody in the band is really into bands like Radiohead and The Decemberists. : We're being true to our roots, which are far reaching.