Photo Gallery
June First Friday Artwalk, selected works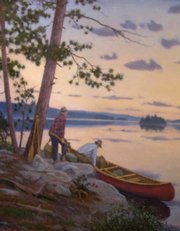 The First Friday Artwalk is from 5 to 8 p.m. today at 20 galleries and alternative art venues in downtown Steamboat Springs. This gallery includes work from several participants.
Other art events
±± Leisure Mountain Studio in Yampa hosts a reception from 4 to 7 p.m. Saturday for featured June artist Chrysti Lell. Her husband, Paul Lell, will be on hand with copies of his new book. Leisure Mountain is a coffee shop and gallery space at 158 Moffat Ave. in Yampa. Call 638-4500.
±± Steamboat Arts & Crafts Gym hosts Father's Day birdfeeder workshops from noon to 2 p.m. Saturday, June 13 and June 20. The gym also offers a free greeting card workshop June 20. For more information, call 870-0384.
Steamboat Springs — ±± Featuring art openings at formal galleries, alternative venues, retail stores and restaurants, the June First Friday Artwalk includes several new artists with new work. Receptions are from 5 to 8 p.m. and are free and open to all ages, unless otherwise noted.
±± Abracadabra Gallery features paintings by Zanobia and will host an open country music jam during the reception. Call 871-8000. 1124 Yampa St., above Double Z BBQ & Bar.
±± New to the Artwalk, All That Jazz features chain-mail jewelry artist Jascha Bowen-Kreiner, whose earrings, bracelets, necklaces and other metal art are handcrafted. Bowen-Kreiner picked up the skills to make his own chain mail at the Maryland Renaissance Fair about 12 years ago; initially, he wanted to make a chain mail shirt for his Grateful Dead-inspired band, he said. The Steamboat Springs resident has been making jewelry since fall 2008 and will bring between 60 and 80 pieces of chain mail and origami work to Artwalk. Call 879-4422. Corner of Sixth Street and Lincoln Avenue.
±± Artists' Gallery of Steamboat presents "Light Translations," featuring oil and watercolor paintings by Susan Corser, textile art by Wendy Kowynia and mixed media works by Maggie Smith. The gallery also showcases recent renovations, including a touched-up floor and freshly painted walls. Call 879-4744. 1009 Lincoln Ave.
±± The Steamboat Springs Center for Visual Arts features "Portraits" by longtime resident and artist Vanda Nohinek; plein air paintings by Joan Hoffman; and work by the gallery's contributing artists. The reception includes wine and hors d'oeuvres. Call 846-5970. 56 Ninth St.
±± Colorado Group Realty features jewelry designed in a contemporary style by Tibby Speare. The works incorporate gold, sterling silver, gems, glass, engraved shells and Swarowski crystal. Call 870-8800. 509 Lincoln Ave.
±± Comb Goddess continues its presentation of photography by Debbi Funston, owner and creator of Sun Bottom Design. The show includes images from across Routt County, and the reception includes wine. Call 871-0606. 1104 Lincoln Ave., on 11th Street.
±± Creekside Cafe and Grill features oil pastel paintings by Sandra Sherrod. The works were made using a hands-on process of layering pastels using fingers. Call 879-4925. 131 11th St.
±± Dovetail Designs shows paintings by Pat Walsh at its downtown location. The paintings are "anchored in the figurative," but the work "continues to drift toward the expressive and the abstract," according to Walsh's artist's statement. Dovetail also showcases some of its new upholstered chairs. Call 736-8244. 344 Oak St.
±± East West Frame Shop presents "Exposures," photos by Karen Gordon Schulman, owner of Focus Adventures. Included in the display are shots in black and white, Polaroid and digital multiple exposures. The reception includes refreshments and a performance by surprise musical guests. Call 879-5225. Behind Cantina in the alley off Eighth Street.
±± Gallery 11 features new works by photographer and gallery owner Ken Lee. The show highlights images from Steamboat, Colorado and the West. Call 870-8887. 908 Lincoln Ave.
±± K. Saari Gallery hosts a preview of hand-painted ostrich eggs for Eggs 2 Ovaries, a fundraiser benefiting education, prevention and awareness related to ovarian cancer in Routt County; eggs move to Steamboat Art Museum on Saturday and will be on display there through the week. The gallery also showcases "The Space Between," mixed media paintings by part-time Steamboat resident Ashley Benton; her work is on display through June 29. Call 870-0188. 837 Lincoln Ave.
±± Off the Beaten Path Bookstore features wildlife photography by Judy Jones, whose work blends a background in photojournalism with Jones' love of nature and the West. Call 879-6830. 68 Ninth St.
±± Portfolio Collection shows work by award-winning Steamboat Springs nature photographer Jim Steinberg. Call 879-3718. 1016 Oak St.
±± Shauna Lamansky Photographic Design Studio, specializing in portrait and fine art photography, shows portraits and botanical prints by Shauna Lamansky. The studio has a new location, 928 Lincoln Ave. Call 879-6213.
±± Sleeping Giant Gallery features "Capturing Steamboat," paintings by Cully Kistler and photos by Don Tudor. Call 879-7143. 601 Lincoln Ave.
±± Steamboat Art Museum hosts its first public reception for "RARE: Imperiled Plants of Colorado" and "The Wild Bunch." "RARE" includes 40 illustrations in a traditional botanical style and is a project by the Rocky Mountain Society of Botantical Artists and the Colorado Rare Plant Initiative; the show is on display through Sept. 30. Several nature-oriented events are scheduled in collaboration with the show, including a Yampatika nature walk June 13 and a wildflower walk at the Rehder Ranch Nature Preserve on June 19. Go to www.steamboatartmuseum.com for a full calendar. The reception includes refreshments and a performance by Western music duo the Yampa Valley Boys. Call 870-1755. 801 Lincoln Ave.
±± The Steamboat Springs Arts Council at the Depot Art Center hosts a reception for an exhibition of quilts by the Delectable Mountain Quilt Guild of Steamboat Springs. Display items include old-fashioned, wall and art quilts. The exhibition coincides with the local guild's meeting with the Colorado Quilt Council on June 27. For more information about the Delectable Mountain Quilt Guild, go to http://dmqg.org. Read a story about the show at www.exploresteamboat.com. Call 879-9008. 1001 13th St.
±± The Spa/Salon features photos by Corey Kopischke. The reception includes drinks, appetizers and live music by local students. Call 871-0202. 25 Fifth St.
±± Urbane clothing store presents painter and Steamboat Springs High School alumnus Colin Kirkpatrick, whose work is done in spray paint and acrylic on canvas and wood panels. Call 879-9169. 703 Lincoln Ave., facing Seventh St.
±± Wild Horse Gallery features a handmade grandfather clock by Wayne Westphale and paintings from a new fishing series by Lee Stroncek. 802 Lincoln Ave. Call 879-5515.