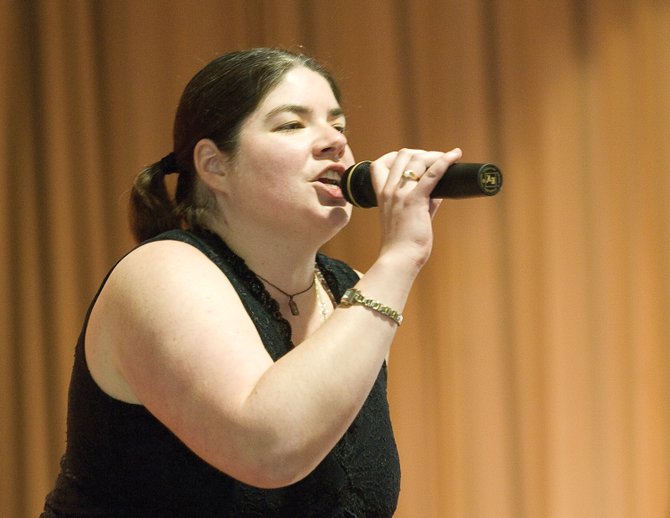 Soprano, teacher Michelle Hess gives final local recital today
Strawberry Park Elementary School instructor will move to the MIdwest this summer
Steamboat Springs — If it's in the Yampa Valley and it sings, Michelle Hess has had a hand in it.
Since moving to Steamboat Springs five years ago, the Strawberry Park Elementary School music teacher has lent her professionally trained voice to Columbine Chorale, Ski Town Productions, Emerald City Opera, "Cabaret," Steamboat Dance Theatre and more musical theater performances and concerts than she can remember.
"I've sung with pretty much every vocal ensemble in town," Hess said, taking a rare break from an end-of-school-year whirlwind that included conducting a talent show at Strawberry Park Elementary School and preparing her own concert.
Hess - who will leave Steamboat Springs this summer to move to the Midwest - will give a going-away concert at 7 p.m. today at Holy Name Catholic Church. Admission is a $10 suggested donation. Proceeds will go toward a youth mission trip.
The singers, dancers and directors who have worked with Hess said they were immediately impressed with her depth of experience and accessible personality.
"My first thought was that she's way too talented for these fun things that we put together," said Patty Zimmer, who has shared the stage with Hess in "Cabaret" and Ski Town Production's "Pirate Theatre." "She has a remarkable background, and the depth of her talent is remarkable, as well."
Along with a degree in music education from the University of Dayton, Hess spent a year singing with a Boston Symphony Orchestra choir before a redirected Web address landed her on a Colorado education jobs site, which led her to Steamboat.
Keri Rusthoi, who is artistic director of Emerald City Opera and cast Hess in a solo role in the opera's 2006 production of "Letters for Mozart," said she appreciated Hess' dedication to spreading a love of music.
"Whatever she does, she does with 110 percent commitment and with great enthusiasm, and that in and of itself is one of the most useful things somebody can do," Rusthoi said.
The idea to do a farewell concert came from Hess' piano player, she said. She recruited fellow cast members of a 2007 community production of "Godspell" to perform a few numbers and filled out the program with jazz, musical theater, Christian and original songs.
Hess said she doesn't have any definite plans or job prospects for her move, but she plans to head toward family in the Midwest. Wherever Hess ends up, the arts community will miss the power behind her voice and the joy she brings to the stage, Zimmer said.
"She's just there to enjoy it and bring what she can to those productions - which has really been the heart of Michelle and working with her, is to be able to use her talent and enjoy her as not only a fellow actor, but as a friend, as well," she said.