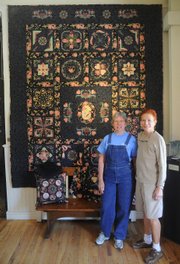 If you go
What: Opening reception for a Delectable Mountain Quilt Guild group show
When: 5 to 8 p.m. Friday
Where: The Depot Art Center, 1001 13th St.
Cost: Free
Call: Jackie at 879-0689
Steamboat Springs — Finding quilts for the Delectable Mountain Quilt Guild's showcase at the Depot Art Center hasn't been a problem.
Finding ample wall space for them has.
For an exhibit opening with a reception from 5 to 8 p.m. Friday, about half of the 60-member guild contributed close to 75 bed, wall and throw quilts in traditional and contemporary styles.
The show - which features carefully embroidered wall hangings, originally designed patterns and plenty of bright colors from guild members and their friends - covers a wide range of subject matter and techniques, said co-organizer Madeleine Vail.
In 15 years of practicing the craft, Vail has found quilting to be an extension of sewing, a hobby she's enjoyed for about 45 years, she said.
"It's just a passion for me, and a lot of people feel that way," she said. "Once they try it, once they start piecing different types of fabric together, it is sort of an obsession."
Scheduled to coincide with a meeting of the Colorado Quilt Council in Steamboat Springs on June 27, the show at the Depot is a way for the Delectable Mountain quilters to put on a nice production for the state organization, Vail said. The guild meets on the third Thursday of each month and puts together a group show once every few years, she said.
Included in the Depot exhibition are several collaborative efforts, including one piece in the art center's front entryway that showcases Vail's quilt stitching and fellow show organizer Jackie Grimaldi's floral embroidery. The rest of the show offers similar variety, Vail said.
"A lot of them are produced patterns that you can go into a quilt shop and buy a pattern off the rack. : And others are completely original; it's just completely out of the person themselves, just like a painting would be," Vail said. Making a quilt is a meaningful and interesting pursuit, she said.
"It's pretty exciting to put together a one-of-a-kind thing and put your heart and soul into it," she said.
Some pieces in the show will be priced to sell, Vail said; all will be on display through June 28. Along with the quilt show, the guild will host quilt vendors June 26 to 28 at the Depot. The group's meeting with the Colorado Quilt Council includes a lecture, workshop and trunk show with Montana quilt artist Laura Heine. For a full schedule, go to http://dmqg.org.