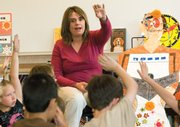 Other action
In other action Monday night, the School Board:
- Named Mary Labor and Fred Gardner the Friends of Education for the 2008-09 school year. Labor, who has been active in the district for more than a decade, has organized its spring flower sale for a number of years. Gardner has spent the past couple years organizing 5th Quarter, a program that provides safe, supervised activities in town for high school students after sporting events. The Friends of Education will be recognized by the board at the June 15 meeting.
- Approved the 2009-10 operating agreement with the Northwest Board of Cooperative Education Services. BOCES serves about 230 of the district's more than 2,000 students.
- Approved the Collaborative Bargaining Team package that was supported in a 175-13 vote by staff members last Thursday. The agreement provides a step increase for staff, but no base salary increase. But it leaves open the option to revisit raises in October after the state decides what funding to provide the district.
Steamboat Springs — Picture a room of 7- and 8-year-olds seated on the floor, meditating. If you can imagine them sitting cross-legged, elbows resting on their knees, arms outstretched in front of them at 45-degree angles, many with their eyes closed, you'll get a better sense of what life is like at times in Laura LeBrun's class.
LeBrun, who was named the 2008-09 Steamboat Springs School District Teacher of the Year and honored in a reception before Monday night's School Board meeting, asked her Soda Creek Elementary School second-graders earlier in the day to find their "inner peace."
The activity helps LeBrun, who's been at Soda Creek for four years after teaching fourth grade in Hayden for the same amount of time, calm the students in the "hubbub" of the school environment.
It's just part of her act, she said.
"I'm pretty much a clown, but there's no suit on me," LeBrun joked. "The more tricks you have up your sleeve, the more fun the children have.
"I sometimes feel like an entertainer."
Earlier this year, LeBrun was named Teacher of the Year for Soda Creek, which qualified her for the district award. Last week, a committee composed of district administrators, parents, staff and board members chose LeBrun from among a group of teachers representing each of the districts four schools. She's now eligible for Colorado Teacher of the Year, which is selected by the state Board of Education.
LeBrun said she was honored to be chosen from a group of district teachers she called the "finest in the nation."
"I've celebrated, and I've cried," she said. "This job means the world to me. It's one of the most important jobs. I'm just so honored."
Soda Creek Principal Judy Harris, called LeBrun "an amazing teacher and an amazing person."
Harris said when LeBrun was nominated as the school's teacher of the year, she was recommended not just by other teachers, but a number of different people with a variety of positions at the school.
"I think that's pretty special," Harris said. "It speaks to her quality across the board and how much she's cared about by people in the building, people who see her skills and the quality of her teaching."
There wasn't a moment for LeBrun when a light bulb suddenly clicked on and she knew teaching was what she wanted to do. But she knows why. Growing up, LeBrun said school was difficult because teachers couldn't understand her.
So the tricks, anything from games to songs or anything else, help her find ways to understand and reach different students.
The students seem to notice.
Emma Sanchez, 8, said LeBrun does a lot of nice things for the class.
"Some are really fun, like making salsa," she said.
Eight-year-old Gibby Kenny said LeBrun has taught him to be laid back, deal with things and move on.
"It helps me by feeling really comfortable in her class," he said. "It just helps me understand more about her personality. It's nice to know how somebody feels sometimes. It kind of helps you feel happier."
Mariam Worster, also 8, said LeBrun's teaching has made her a stronger writer - and better at just about everything they do in class.
"She's very talented," she said. "She makes me very proud of myself. I'm very proud she's my teacher."
Connie Zabel, a special education and severe needs aide at Soda Creek, spends an hour or two in LeBrun's class each day. Zabel also has a unique perspective on LeBrun, who taught her daughter, Bailey, four years ago as a second-grader.
"She just relates so well to all the kids and what their needs are," she said. "She's exceptionally good at it. She's just exceptional at what she does."
For LeBrun, what it really comes down to is reaching her students, by whatever means necessary. If they don't understand the first time, she said she'll go back and do it differently.
LeBrun said she was flattered to receive the Teacher of the Year honor, but her reward is what happens at school every day.
"When I'm standing in the classroom and the children are having a blast and they're really learning what I just taught them, really soaking it in and knowing it," she said, "that for me is one of the best parts of my life."