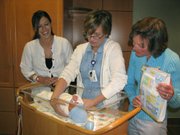 Risk factors
Sudden Infant Death Syndrome is defined as the sudden death of an infant younger than 1 year of age that remains unexplained after a thorough case investigation. Risk factors for SIDS include sleeping on the baby's stomach, soft sleep surfaces, sleeping with big or bulky items, birth to smokers or exposure to smoke, being between 1 and six months of age, prematurity or low birth weight, inadequate prenatal care and being male.
Have you ever found the perfect gift? A gift you knew would be appreciated and useful? This is a story of such a gift, and it may be given to someone you know.
Last fall, Jayne McCawley found this gift. As a member of the Yampa Valley Medical Center Auxiliary, McCawley attended the Colorado Association Hospital Auxiliary/Volunteers Conference. She was drawn to a booth with products that encourage healthier and safer sleeping for children.
The attraction was somewhat personal, as her daughter was expecting twins. However, McCawley's encounter quickly grew into a mission to benefit families in Northwest Colorado.
The YVMC Auxiliary is a group of individuals who assist the hospital in promoting health and wellness through fundraising and volunteer efforts. The annual CAHAV conference brings together volunteers and auxilians from across the state to network and share ideas about projects they do for their hospitals.
McCawley learned that some hospitals are giving sleep sacks to newborns. Sleep sacks are an item of clothing that a parent uses to swaddle a baby. Furthermore, she learned that swaddling has many health benefits, including lowering the risk of Sudden Infant Death Syndrome.
"When they came back from the conference, they were all jazzed about the sleep sacks," YVMC Volunteer Services Coordinator Mindy Fontaine said. "It hit very close to home for some board members, and everyone enthusiastically supported the idea."
Fontaine met with Alethea Stone, then director of YVMC's Family Birth Place, to discuss the Auxiliary board's wish to provide the sleep sacks to newborns. Stone was excited about the gift because it would support the American Academy of Pediatrics' "Back to Sleep Campaign," a drive started in 1992 to promote safe sleeping practices.
"It was a really good fit with the Family Birth Place's desire to communicate with parents," Fontaine said. "The sleep sack is a hands-on tool to educate parents, much more effective than just handing them a brochure."
The new micro-fleece sleep sacks will replace the one-piece baby suits that previously have been given to newborns at YVMC.
"It's a very worthwhile piece of clothing for hospitals and very affordable when you can purchase in quantity," McCawley said. "All mothers find that babies do settle down better when they are swaddled."
A practice that dates back thousands of years, swaddling crosses many regions and cultures. Today, swaddling babies shortly after birth is a standard in many hospitals including YVMC's Family Birth Place. Being wrapped tightly in a blanket mimics the effect of the mother's womb and brings comfort to the baby.
Local pediatrician Sheila Fountain, M.D., said swaddling is known to have several benefits, among them enhancing sleep.
"It helps babies regulate their sleep so that they sleep longer and more restfully," Fountain said. "And the parents will get more sleep because of swaddling."
Fountain said that although babies like to sleep on their bellies, it is important that swaddled babies always be placed on their backs.
"We've seen a huge decrease in the number of SIDS cases since the Back to Sleep campaign started," Fountain said. She also pointed out that babies should be swaddled until they learn to roll over on their own.
"The Auxiliary is so generous in their gift of the swaddle sacks," Tracey Fortson, assistant director of the Family Birth Place, said. "The embroidery of 'The Family Birth Place' adds such a personal touch."
Both Fortson and McCawley were on hand to give away the first sleep sack to a baby boy last week. Fortson showed the mother how to swaddle the baby.
"Together we will be able to educate our community on the importance of Back to Sleep and the other benefits of swaddling," Fortson said.
Of course, the "gift" is not wrapped; it actually wraps the greatest gift of all.