How to help
What: Multi-family garage sale to benefit The Tasaru Girls Rescue Centre in Narok, Kenya
When: 8 a.m. to 4 p.m. June 13 and 8 a.m. to noon June 14
Where: 355 Blue Sage Circle, Steamboat Springs
Cost: Most items $1 to $5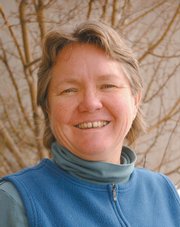 One Sunday, I was walking back to the Rescue Centre from church with Fridah, who at 10 years old is the oldest of four AIDS-orphaned siblings. She came to the Rescue Centre a couple of years ago and asked Agnes, the local Maasai woman who runs the facility, to pay for her education so that, in her words, "I can go home and care for my brother and sisters." Even though Fridah is not at risk of being circumcised or forcibly married, Agnes took her in and pays her annual primary school fees of about $150.
As we approached the building that Sunday, Fridah stopped short, sniffed the air, and said, "Mary, do you smell that?" Noting Fridah's nervousness, I also stopped and said that I smelled potatoes cooking, thinking this was what was being prepared for lunch by some of the girls remaining at the Rescue Centre.
"'Tisn't potatoes," she said.
"Well then, Fridah, what is it?" I said.
"'Tis a snake."
"Are you sure? Maybe we are having potatoes for lunch."
"We don't eat potatoes for lunch on Sundays," Fridah said.
"What kind of snake, Fridah?" I asked.
"A shiny snake with a big head. 'Tis around," she said glancing this way and that nervously.
I learn something new every single day from the girls at the Rescue Centre. And these girls from the African bush would know their snakes - Kenya is home to 126 species. Once safely at home here in Routt County, I researched to discover that spitting cobras do emit a variety of odors when alarmed. I also learned that the world's largest spitting cobra, 9 feet long, was discovered in Kenya two years ago. It packed enough punch to kill 15 grown men.
Another common snake in Kenya is the black mamba. Black mambas aren't black, they're green, and considered the world's most aggressive and poisonous snake. One day, I returned to the Rescue Centre from a day in town and was told by some of the girls that Kunguru (the watchman at the centre, and "Baba" to the girls) had killed a black mamba in the yard. Black mambas are considered so poisonous that Kenyans won't bury one after killing it because the body will poison the soil and kill crops. So they boil them first, then they bury them.
I jokingly said, "Fridah, maybe the snake ate some potatoes." She didn't laugh, but started walking again, and I didn't dare fall behind. Not that I didn't believe Fridah, but just to be sure, later that day, I asked one of the older girls. "'Tis a shiny snake with a big head, Mary."
I love potatoes; but I'm not so crazy about the smell of them cooking any longer.