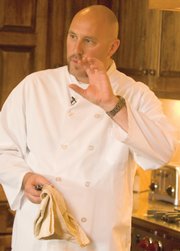 6th annual Wine Festival at Steamboat main events
- Stroll of Steamboat Grand Tasting, 4 to 7 p.m. today in downtown Steamboat: Sample wines and appetizers at local restaurants, galleries and retailers. Featured venues are Ski Town Lifestyle Properties, Steamboat Flyfisher, Cottonwood Grill, Steamboat Yacht Club, Creekside Cafe and Grill, and Images of Nature. Check-in is at the Routt County Courthouse at Sixth Street and Lincoln Avenue; $55
- Toast of Steamboat Grand Tasting, 3 to 6 p.m. Saturday at Torian Plum Plaza: Sample food from local restaurants, taste hundreds of wines and watch top chefs square off at the festival's main event; $65
- An interactive cooking demonstration by "Top Chef" season five winner Hosea Rosenberg is at 1 p.m. today in Torian Plum Plaza. Rosenberg plans to make a summery gazpacho. Tickets are $55 and are available at www.steamboatwine...
- The festival schedule also includes eight educational tasting seminars, with topics ranging from Spanish and Australian wines to tasting new varietals like a master sommelier. The events are individually ticketed and range in price from $35 to $75.
- Tickets for all Wine Festival at Steamboat events are available at www.steamboatwine.... Tickets for the Stroll of Steamboat and the Toast of Steamboat also are available at Central Park Liquor; a local's pass for both events is $100. For more information, call 879-3428.
Steamboat Springs — Before the season five finale of Bravo's "Top Chef" cooking competition aired in late February, Boulder chef Hosea Rosenberg had some chance of walking into a restaurant without being recognized.
When the finale aired and the world learned Rosenberg had won - beating out 16 other chefs in a series of high-intensity cooking competitions - the self-trained cook said goodbye to anonymity and began life as a culinary celebrity.
At 1 p.m. today, Rosenberg will give an interactive cooking demonstration at Torian Plum Plaza as part of the sixth annual Wine Festival at Steamboat. On Saturday, he'll join fellow Boulder resident chef Matthew Jansen to take on Denver-based chefs Christian "Goose" Sorensen and Tyler Wiard in the 2009 Steel Chef Competition. That face-off is part of the Toast of Steamboat Grand Tasting, the wine festival's culinary-focused final event that runs from 3 to 6 p.m. Saturday at Torian Plum.
Rosenberg took time out of his five-day Steamboat Springs tour of wine, food, fly-fishing and mountain living to talk with Explore Steamboat and give a demonstration of the skills that garnered him a spot as executive chef at Jax Fish House Boulder and titles at many cooking competitions.
He talked about coming to Colorado 16 years ago to study physics and engineering at the University of Colorado at Boulder, using kitchens to work his way through college and becoming 'Top Chef.'
EXPLORE STEAMBOAT: How did you end up on "Top Chef"?
HOSEA ROSENBERG: I'm a pretty competitive person. So over the last couple of years there's been a lot of cook-offs that I've entered in Colorado, and I had a lot of fun, and I like going up in front of crowds and doing my thing.
They were casting for the show last year, and somebody on the casting crew heard about me and they contacted me at the restaurant, and I did an interview and made a little home video. They must have liked what I said or did or something because the next thing I knew I was getting a phone call to come out to New York City.
EXPLORE: What was it like to be on the show? On TV it seems very intense.
HR: It was very intense; it's the hardest thing I've ever done as a chef. Not only are the challenges they give you really difficult, with the timing and the fact that you're in a kitchen that you're not familiar with or you have limited ingredients or the fact that you're shopping and you have $25 to come up with this extravagant meal - that was part of it.
But also you're living with a bunch of strangers for six weeks. You're sequestered, you don't have any access to the outside world, and you've got cameras pointed on you 24-7. We would wake up and go to sleep with cameras pointed at us, and until you've been through an experience like that, it's really hard to comprehend what that does to you psychologically. You're always being watched, and you feel the pressure, especially when you don't do well. If you make a mistake in the kitchen, you know you're being filmed, you know it's going to end up on air because the bigger mistake you make, the better television it is, and so they're going to just flash that all over the country.
You always have in the back of your mind the millions of people (who) are going to be watching you, so it's really, really tough.
EXPLORE: You mentioned being a competitive person - did you go into the show thinking you had a chance of winning?
HR: Absolutely. I wouldn't have done it if I didn't think I could have won. :
I don't enter competitions unless I think I can win them. Like we have a big race in Boulder every year, the Bolder Boulder, and I run, but I don't think I have any chance of ever coming in first, so I don't enter the race. Because to me a race, you want to win it, it's just the way my brain works. So I get into cooking competitions because I feel like I have a good chance of taking it.
EXPLORE: So you're not the kind of person to enter a fun run for fun.
HR: No. It's not that much fun really - it's exercise. : With the cooking, I just thought I would give it a shot, and it wasn't about becoming famous, I wasn't trying to see my name in lights. I didn't even really think about the fact that once I was on the show that a lot of people would recognize me. It was more of a personal quest to see how I would stack up against other chefs across the country, and that's why I did it. : But, you know, things have definitely changed since I did it.
EXPLORE: Do you get recognized often?
HR: I get recognized everywhere. : I expected it, I guess, in Boulder and Denver and Colorado in general, but I go to New York City, Boston, L.A., wherever : and it's not just restaurants - I'm walking down the street in New York City and I have people shouting at me from cabs. I had no idea that the show was so big and it had such an impact and so many people watch it.
EXPLORE: Anything else you'd like to add?
HR: A couple of years ago and I would have had to really beg and plead to come up here to be a part of the (Wine Festival at Steamboat), now people are asking me to come, and it's just been wonderful.