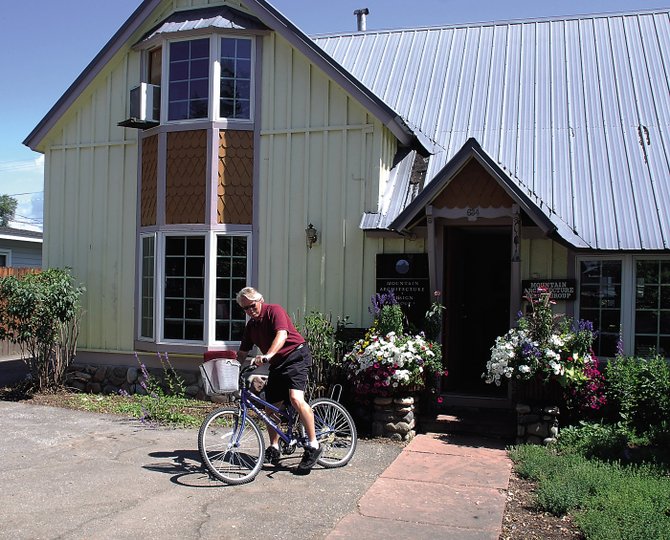 Oak Street residence added to Steamboat's historic register
Steamboat Springs — A modest 1 1/2 story home at 634 Oak St. is among Steamboat Springs' oldest and most rare structures.
The Bourguin House, already on the Routt County Register of Historic Places, has been deemed worthy of addition to the Steamboat Springs Register.
Built in 1891, 15 years after the first European family settled here, its Gothic revival architectural style is uncommon in Steamboat and across the Mountain West, the city's Historic Preservation Coordinator Laureen Schaffer said.
Its notable characteristics include a steeply pitched roof and an oriel window - a window that is similar to a bay window, but does not reach to the ground.
The building is owned by the principals in Mountain Architecture Design Group: Ed Becker, Jan Kaminski and his wife, Nancy, who use it as their office. Not coincidentally, the firm has developed a specialty in historic preservation.
Mountain Architecture Design Group is working this summer on an addition to a home in Brooklyn that protects the structure's historic qualities.
Jan Kaminski said his staff is very comfortable working in the 1,200-square-foot house near the intersection of Oak and Seventh streets.
"It's convenient to be downtown," he said, before hopping on his bicycle and riding off to a business appointment.
When Albert Bourguin built the home in 1891, Steamboat was still a town where many of the homes reflected rustic construction methods.
The milled lumber used to make the board-and-batten-style siding on the new Bourguin home would have stood out from neighboring homes.
"What had begun as a pioneer homestead for the Crawford family in 1876 had turned into a Western town where citizens sought to replicate architectural styles popular from their past home towns," Schaffer wrote in a report.
The Gothic revival style was only being built in the Midwestern U.S. from about 1840 to 1880, so the style was already on the wane by the time the house on Oak Street was built.
Kaminski said for him, it is emblematic of Steamboat's earliest economic development and the rise of commerce here.
Bourguin sold the house to T.W. Parkinson in the spring of 1901. Parkinson would wear many hats in Steamboat.
He homesteaded in Strawberry Park but also purchased lots in town on which he built small houses that he rented as income property.
Prominent in politics, he was postmaster of Steamboat for several years and had a prosperous mercantile business - Brandford and Parkinson.
Parkinson sold the house to Irene and James Furlong in 1905. Furlong had arrived in town to help his brother, E.O. Furlong, operate his hardware store in the Furlong building next to the Routt National Bank Building. However, James and Irene left Steamboat and sold the house to A.H. Poppen in 1908.
Poppen was a president of First National Bank at the time that building was expanded. After losing a mayoral election by 29 votes, Poppen was elected to the committee working on extending the railroad tracks to Craig.
The home has seen 17 owners, but despite some modest additions, it appears largely the way it did in the late 19th century, Schaffer said.