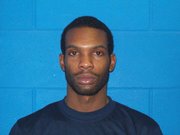 Steamboat Springs — A fifth person has been arrested in connection with what police are calling the "Jamaican lottery scam" investigation, which already has seen four other Routt County residents federally indicted and arraigned.
Dean Leslie Mowatt, 31, was booked into the Routt County Jail on Sunday and is suspected of theft, identity theft, criminal possession of a financial device, conspiracy, gathering information by deception and violation of the Colorado Organized Crime Act. Mowatt is suspected of stealing credit card information from visiting guests at The Rockies Condominiums in Steamboat, where he was a front desk clerk last winter.
Mowatt was one of several workers who came to Steamboat Springs from Michigan for the winter to work for Mountain Resorts through a partnership with the Grand Hotel on Mackinac Island. According to an arrest warrant written by Steamboat Springs Police Detective Dave Kleiber, Mowatt, a Jamaican citizen, worked in cooperation with four other Routt County residents accused of defrauding elderly U.S. citizens out of hundreds of thousands of dollars.
Local charges were dropped against the four alleged co-conspirators - Yanique Mendez, Cartina Graham, Simon Guthrie and Troy Cox - after they were indicted federally.
Steamboat Springs Police Capt. Joel Rae would not comment Monday on Mowatt's arrest and said it is part of an ongoing investigation. Jeff Dorschner, a spokesman for the U.S. Attorney's Office for the District of Colorado in Denver, said Mowatt is not a part of the federal case and faces only state charges.
It was unclear Tuesday why Mowatt is not part of the federal case and was arrested more than two months later than Mendez, Graham, Guthrie and Cox, who were federally arraigned earlier this month. They all entered pleas of not guilty and are scheduled to go to trial in September.
The federal indictment states that from Jan. 1 to June 1, the four defendants used illegally obtained mailing lists to inform elderly citizens by U.S. mail, e-mail and telephone that they won the "Australian Lottery." The indictment indicated that they instructed the victims to pay taxes on their winnings - as much as $33,500 - through the mail, Western Union or Money Gram services to an address or post office box in Steamboat Springs before a certain date.
The four are suspected of working with co-conspirators in Jamaica, to whom they sent the proceeds from the scam. According to Kleiber's arrest warrant, a Mountain Resorts notepad with nine credit card numbers, names, addresses and phone numbers written on it was found during a search of Guthrie and Mendez's residence. It is alleged that Mowatt stole the information from guests at The Rockies and provided it to Guthrie.
According to the arrest warrant, Guthrie admitted he was going to use the information for a future credit card scam but never got specific instructions from alleged co-conspirator Cleon Andrews in Jamaica about what to do with it. The arrest warrant also states that police found receipts proving Mowatt also had sent money to Andrews in Jamaica.
Police were alerted to Mowatt's role when a Colorado Springs woman reported her debit card had been illegally used to make a $461.60 online purchase. The woman had been a guest at The Rockies and the online purchase was to be shipped to Mowatt's residence.
Deputy District Attorney Rusty Prindle said Tuesday that no formal charges have been filed against Mowatt. Mowatt still was being held in the Routt County Jail on a $5,000 bond Tuesday. His original bond of $100,000 was reduced Tuesday based on an investigation and subsequent interviews by the Steamboat Springs Police Department, Prindle said.