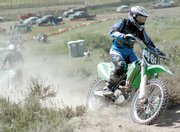 Steamboat Springs — Racers made three, four or five laps on the 13-mile course in the Greenridge Enduro race, but it didn't take Steamboat Springs daredevil Kerry Lofy very long to figure out why it's called enduro racing.
Lofy, who last winter became one of only a few people to have hucked Hells Wall, took a different kind of flying leap Sunday on the Phippsburg-area course. This time, he went hurtling over the handle bars of his dirt bike midway through his first lap. In that vault, he realized how the sport got its name.
"I was done right there," he said. "I had to sit for five minutes before I could even get back on my bike."
The trail, carved into the sage and through the forests between Oak Creek and Phippsburg, tested the endurance of all 300 riders who showed up for the first-time event.
Often forcing riders to stick to the saddle for most of four or five hours, it physically drained them. Daunting uphill and steep downhill sections - interspersed with suck-it-in stretches where a trail just 32 inches wide ran between thick tree trunks - took a toll on both man and machine. Ever-present dust often reduced racers' visibility, clouding goggles and pushing an already worn out rider's frayed nerves ever closer to the edge.
"They don't have races like this on the Front Range," said Denver rider Ian Blythe, who won last year's Rocky Mountain Enduro Circuit.
The race sent bikers away from the starting line in teams, one each from four different competitive classes. The highest class, A, ran five laps while the beginner class logged three.
The idea was for racers to tear through the course at an average of 36 miles an hour, an almost impossible standard to uphold. They checked in at tents scattered across the course and lost points based on how far they had slipped from the ideal time.
The event marked enduro racing's return to Routt County after a 15-year absence. The sport first came to the area with a 1972 race in Little Red Park in northern Routt County. Organizers pulled the plug on the then-annual event in 1994.
"We wanted to start it back up to give them a chance to race in the mountains," race director Delbert Bostock said. "We're very happy. We haven't had any major injuries. And, for a first-year event, we weren't expecting 300 to show up. That's great."
The Rocky Mountain Enduro Circuit includes races in Colorado, Wyoming, Texas and Nebraska. Sunday's racers came from across the country.
Plenty of locals took the chance to get in on the action, too.
Lofy said he's been riding dirt bikes for years, but Sunday's was his first race.
"I'll definitely do it again," he said. "I'll probably train more next year."
Richard Strait is a regular at local motocross events with his sons, Soroco High School students David and Ben.
The massive event seemingly in his backyard was too much for his crew to pass up.
"I'm a little cramped up," he said, wincing only moments after finishing the race. "It's so tiring, and once you get tired, it's hard to keep riding the way you need to ride."
As Lofy rubbed an injured shoulder and Strait made peace with the aches in his body, Vail resident Jordan Harrill was preparing for the last of his four laps.
"There's nothing like this," he said, grinning as he waited to start. "But it's tough. The trail out here changes every lap. There are different bumps, and you have to take different lines. The sand gets loose, and it's hard to turn.
"You have to keep focused. I guess that's why they call it enduro racing."
Results from Sunday's Greenridge Enduro were not available at press time.