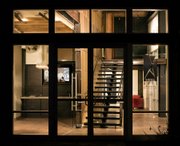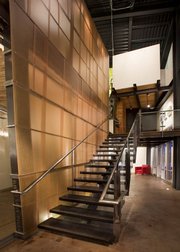 Steamboat Springs — When Vertical Arts designers and architects crafted their space, they hoped to keep the environment conducive to collaboration.
"We wanted to create an open loft space as our studio because we work close together as teams," designer Katy Vaughn said.
The architecture firm earned an award for outstanding achievement in design excellence from the American Institute of Architects Colorado West Chapter for its office in Wildhorse Marketplace. Vertical Arts, founded by Brandt Vanderbosch, also received other recognition recently.
Rob Nadolny received an AIA Colorado Young Architects Award honorable mention for built architecture, Vanderbosch was honored by Mountain Living as one of the top 20 architects younger than 40, and Vaughn recently earned accreditation as a Leadership in Energy and Environmental Design professional.
She's working on getting LEED certification for Vertical Arts' office. The firm took the environment into account when designing the space. The desktop surfaces are made of sunflower seed hulls, for example.
The space includes a central staircase with an open area to the right, which has been used for art showings and as an art gallery. Meeting space to the left includes a flat-screen TV where clients can see their projects.
The staircase serves as the dominant feature.
"It guides the flow of the space and getting you upstairs to the studio," Vanderbosch said.
Resin drilled into steel alongside the staircase creates a translucent barrier.
"I think that's a big part of our space, too, is there's a lot of layers," Vanderbosch said.
The upstairs is open, which Vaughn said encouraged cooperation and collaboration among the staff members. Vanderbosch started the company in December 2004, and the staff moved to the new spot at 690 Marketplace Plaza in December 2008.
"I think that's one of Vertical Arts' strong points, is the collaboration of the team," Vanderbosch said.
The firm has planners and landscape architects on staff, which also helps with the design process, Nadolny said.
The firm also tries to work closely with customers.
"Part of it is our team process, I think, and the feel we have with our clients," Vaughn said. "They feel like a real part of the process."
Brent Pearson, of Resort Ventures West, worked with Vertical Arts on his home and office. He said he appreciated the firm's willingness to use clients' ideas.
"One of the things about Vertical Arts I found very refreshing is, they're a very talented group, and they're very good at taking ideas and making them better," Pearson said.
He said he appreciated the collaboration in the office.
"They allow their talents to shine through," Pearson said. "They work very well in a tandem cooperative kind of manner at doing exactly that, taking rough ideas and refining them and making them really special."
Vertical Arts also prides itself on using cutting-edge technology. The architecture firm uses three-dimensional modeling to create virtual models of building projects. Those help customers and builders visualize the plans, Vanderbosch said.
That system also helps the architects find and fix potential issues, Nadolny said.
"It allows us to figure out a lot of those problems before they cost too much," he said.