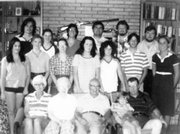 Stepping up for support
The fourth annual Steamboat Springs Relay For Life starts at 6 p.m. Aug. 7 at Steamboat Springs High School. Participating teams will walk through the night to show their support of the battle against cancer.
Registration for the event is open, and donations can be made directly to team members or online at www.steamboatrelayforlife.com.
Those who wish to form a team can call Kassandra Collins at 871-4652.
Relay meetings this week:
- A mandatory Steamboat Relay For Life team captain meeting is at 5:30 p.m. Wednesday at Concordia Lutheran Church on Concordia Lane. The meeting includes information about all race details.
- A Relay For Life committee meeting, the final meeting before the event, is from 6 to 7:30 p.m. Thursday at the Routt County Courthouse Annex, in the Trout Creek Conference Room, on Sixth Street. Call Susan at 879-8831.
Steamboat Springs — When Susan McIntosh was 19, cancer took her father. Twenty-eight years later, cancer killed the sister of a friend - but not before McIntosh decided to work to stop the disease. That's when she joined the American Cancer Society's Relay For Life.
She is working as a co-chair for this year's event, which begins at 6 p.m. Aug. 7 at Steamboat Springs High School.
Susan's father, Ralph Schumer, was diagnosed with cancer Sept. 19, 1980. By the time doctors discovered that his lung discomfort couldn't be treated with antibiotics, the cancer had spread throughout his body. He died Dec. 3 of that year.
McIntosh was living in Louisville, Ky. Her father, a manager for Westinghouse Electric Company, left behind nine children and many unfulfilled plans, including dreams of retirement with his wife. He died at the age of 50.
"They had reached a point in their lives where almost all of us were grown, and they would have the opportunity to have time to spend together," McIntosh said about her parents. "He could have retired in eight years, and they had all sorts of travel plans to visit the kids and stuff like that, and it was taken from them."
McIntosh said that in her volunteer work, she uses the values her parents instilled in her and her siblings.
Her mother "walked the neighborhoods to collect for the cancer societies and the March of Dimes," McIntosh said.
McIntosh again was close to cancer three years ago, when her friend's sister, Bea Reyes, was diagnosed with breast cancer. Reyes died in March 2008. While she was fighting the cancer, McIntosh and her friend, Stella Peroulis, decided that joining Relay For Life was a way to show their support.
That year, they joined a team, and each year McIntosh has increased her participation. Last year, she ran the store before co-chair Linda Jackson asked her to join the committee.
"She's such an amazing energy gal, and she has a lot of experience in organization," Jackson said. Jackson, who has worked with Relay For Life for five years and also was last year's co-chair, said she will step down after this year, leaving McIntosh in charge.
"We both come from that real strong Southern faith background, an "if you say you'll do it, you'll do it" background," Jackson said.
Jackson said fundraising is going well this year, but because Steamboat is a "last-minute town," it's hard to gauge the progress. Organizers will have an update on fundraising progress at a team captains' meeting scheduled for 5:30 p.m. Wednesday at Concordia Lutheran Church.
In 2008, Steamboat was honored as the highest per-capita giving site in the country.