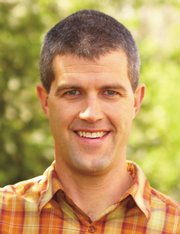 Jon Wade
Age: 41
Occupation: Dad, husband, friend & broker/owner at Colorado Group Realty
Place of birth: St. Joseph, Mich.
Q. When did you move to Routt County, and what brought you here?
A. Full time in 2005, as often as possible before then. When Wendy was pregnant with Neve, we decided that Steamboat would be the best possible place for our kids to grow up because of the good people here, so we'd better move now instead of waiting. We worked really hard and found a way to make our dream a reality; couldn't be happier that we did.
Q. What's the biggest risk you've taken recently?
A. Moving to Steamboat or maybe trying to keep up with all of my friends here.
Q. Describe your morning routine.
A. Get the best hugs in the world and hang with my family, eat, walk out on the deck, realize how lucky we are to live here, and then go to work so we can.
Q. Has a book ever changed your life? What was it and why?
A. I've read many great books, but it is the advice my grandfather gave me as a 5-year-old on his farm that still stays with me every day: "Take good care of others, and you won't have to worry about yourself."
Q. What three things would you want people to know about you?
A. Hopefully that I am a good dad, husband and friend that tries to think of others first.
Q. What did you want to be when you grew up?
A. A big kid so I could do everything fun.
Q. If you could invite any four people to dinner, who would they be and what would you talk about?
A. I'm a simple guy, so it's just the friends we do have over and the others that we haven't gotten to yet. We talk about life, our kids and our next adventure.
Q. In the Meatloaf song, "I'd do anything for love, but I won't do that," what is that?
A. A job that I don't look forward to every day.
Q. Who is your favorite superhero? Why?
A. Superman, because he's a bit geeky like me but can do anything he sets his mind to.
Favorites
Song: "What a Wonderful World," Louis Armstrong
Color: Of hay, mid-September in the valley
Food: Steak with mac & cheese