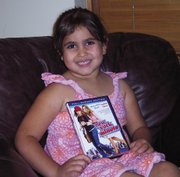 The sixth Hayden Public Library Reader of the Week is 4-year-old Valeria Gutierrez.
Valeria's parents are Jose and Tacha Gutierrez. Valeria will be in kindergarten in the fall.
She has three brothers, Rene, 18; Raul, 17; Jorge, 14; and a sister, Maria, 7. Valeria was born in Steamboat Springs but has lived in Hayden all her life. She says that her best friends are Rene, Raul, Jorge, her dad, her mom, her sister and Stephanie and Miriam.
Her pets are a toy kitty named Princess and a toy dog named Chihuahua. When she grows up, she really wants to be a doctor.
Valeria's favorite colors are pink and yellow. Her favorite foods are spaghetti, soup and eggs. She loves the movie "New York Minute" with Mary Kate and Ashley Olsen, and "Madagascar." In her free time, she likes to ride her bike, color and go to the library and meet with her reading buddy. Her favorite sports are soccer and basketball. In preschool, she liked to play hide-and-seek with Ariana and eat cookies. Her favorite book is "Penguins" by Liz Pichon. This summer, Valeria likes playing outside with Maria.
When she found out she had won Reader of the Week, she almost cried and said, "I am happy!"