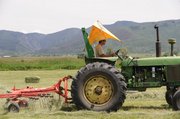 The abundant hay crop being harvested this week in the Elk and Yampa river valleys doesn't necessarily assure an economic boon for area farmers and ranchers.
Yields are up more than 100 percent in some parts of Routt County. The countywide average yield is 2 tons per acre, and dry-land hay usually hits 1 ton per acre. Ironically, this year's high yields could actually depress prices on the local market.
"Most of this summer's hay crop is phenomenal, especially in the Elk River Valley and between Steamboat and Hayden," Colorado State University Extension Agent CJ Mucklow said.
Mucklow's own field of dry-land, or not irrigated, alfalfa is producing 2 tons per acre this year, compared to three-quarters of a ton in 2008.
The real challenge for hay growers in Northwest Colorado may be traced to distant states. The cost of petroleum in 2008, coupled with the impact the recession is having on Holstein cows and thoroughbred horses, is making it tougher to make a profit on Routt County hay, one local expert said.
"The big picture in this industry is that the cost of fuel and (consequently) fertilizer soured things," said Doug Decosta, of Colorado Hay Company in Yampa. "We got stuck behind high fuel prices."
Decosta's company has been brokering hay from five states to buyers across the nation, and even to international markets, since 1985. Northwest Colorado's hay industry always will have a solid base, he said, because some longtime customers prize the high mountain grass hay. However, the twin forces of record fuel prices in 2008 and the recession that followed have made an already complex market more difficult than ever.
High-quality hay brought bullish prices last year - $165 a ton was not uncommon. However, Decosta said about $20 to $30 per ton of hay could be attributed to expensive diesel fuel.
"The farmer didn't get rich on those prices," Decosta said. "He was just paying the fuel bill."
Then came the double whammy. The high cost of fuel and hay depressed the livestock industries. For example, dairy farmers in Arizona are being discouraged by their bankers from paying high prices for hay. Instead, older milk cows and young heifers are being shipped for hamburger rather than sustaining the size of dairy herds.
There isn't much incentive to increase herd sizes and feed expensive hay to dairy cattle when prices for dairy products are lower than the cost of production, Decosta said.
The price for hay in Arizona this summer is more like $120 a ton, Decosta said.
The decreased demand for dairy hay is pushing the product to horse farms, where owners typically have been willing to pay a premium for high-nutrient hay. But similar economic forces are working on the thoroughbred industry.
"In Florida and Kentucky, they survive on the sale of thoroughbred colts," Decosta said. "Those markets are down a third. Places that had 150 horses now have 42 or 62."
Rainy days
Hay farmers also are singing the blues on Colorado's eastern plains, where abundant rainfall isn't always a blessing. Not only did unusually heavy precipitation in early June ruin the first cutting of alfalfa, Don Leonard, of Don's Hay Service in Brush, said, but the moisture that forced farmers to put up moldy hay improved grass pastures. That's allowing livestock growers to feed their cattle on their own grass and put off buying hay.
"The hay is piled out there, but the quality is terrible," Leonard said.
The upside-down condition of the dairy industry and the desperate financial situation of some small banks that made loans to farmers are further complicating the situation in Eastern Colorado, Leonard said.
"It's put things in a traumatic state here," he said.
He is the treasurer of the Colorado Hay and Forage Association.
Leonard said that in his estimation, hay producers in Northwest Colorado are likely to have to turn to out-of-state markets to sell the hay their own livestock can't consume during the coming winter. However, he predicts they'll have to settle for lower prices than they are accustomed to.
"Hay is not going to come back to the prices of last year," Leonard said. "I have a good friend who hauls a lot of hay out of that area. They want $165 (a ton) plus freight. There's nobody interested in buying hay for that price right now."
Leonard and Decosta agree that hay producers trying to sell their crop should be cautious, to make certain an out-of-state buyer will pay them, or rely instead on a reputable broker.
The long wet season in Routt County this summer delayed the growth of the hay and also kept farmers from putting their heavy equipment into the soaked fields as early as usual.
There was so much moisture in June and early July that farmers and ranchers didn't depend as heavily as usual on irrigation from the rivers.
So the 2009 hay harvest is a little later than usual, but even a city kid can gaze at the fields and tell they are healthy.
And there's another benefit from natural precipitation.
"The rain that falls during thunderstorms has more nitrogen in it," Mucklow said.
And all that naturally occurring nitrogen results in an even more abundant hay crop.