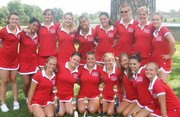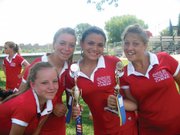 Steamboat Springs — Twenty members of the Steamboat Springs High School cheerleading team returned from a camp at Regis University on Thursday with plenty of good news.
"We go to a camp every summer, but normally the bigger Denver schools dominate the competitions," coach Shannon Uris said. "I'm really proud of our girls and the way they represented their school and Steamboat Springs."
Steamboat's varsity team, which includes 16 cheerleaders, took first place in cheer and second place in dance. The smaller junior varsity squad earned first place in dance. Uris said there were 12 schools at the camp, including many larger schools such as Montebello, George Washington, Columbine and Pomona high schools.
"I think our attitude was the difference this time around," senior cheerleader Genna Bradley said. "I think everybody on the team thought we had a shot, and our coach made us believe it was possible."
The Steamboat team was immersed in cheerleading for about eight hours a day during the four-day camp. Sessions went from 9 a.m. to noon, from 1 to 4 p.m and from 6 to 8 p.m after dinner. But Bradley said the experience expanded past the sessions.
"Cheerleading is all you think about and all we talked about the entire time," Bradley said.
The Steamboat team also received an award for showing the most school tradition after the third day of the camp. Uris credits her athletes' dedication to supporting high school sports each year for that honor.
Bradley and fellow senior Brittany Salazar also were given All-American honors at the camp. Bradley earned the honor of "best jumps" and was asked to coach next year at a camp put on by the Universal Cheerleading Association.
"I've wanted 'best jumps' since I was a freshman," Bradley said.
Bradley, who also is one of the state's best high school divers, said her jumps have improved a lot in technique and height since she was a freshman. She credits those changes to her success at this year's camp.
She is hoping the top finishes will give the Steamboat squad a boost as they move toward the start of a new season.
"You learn so much at the camps," Bradley said. "But it's also a great place to make a connection with teammates. You can become better friends with teammates that you might not have known before the camp."
The Steamboat Springs High School cheerleading team will return to action when the high school's fall season officially begins Aug. 17. Uris said the competitive season begins in November and that the team usually competes in two regional events and the state meet each year. The state meet is held in December.
The coach said Steamboat Springs High School usually has a full varsity team of 16 members and a full junior varsity team of the same size.