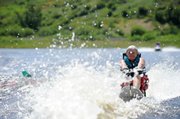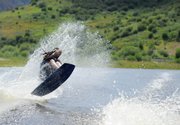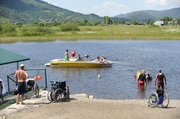 Steamboat Springs — Bald Eagle Lake is home to some of the Steamboat Springs Winter Sports Club's most intense training, with X Games and Olympic hopefuls throwing themselves down a wooden ramp into the cool waters.
It was unanimous Thursday, however: Even as ESPN-featured skiers flipped through the air, the most amazing lake performance came from a gray-haired woman without a right leg.
Pat Williamson lost her right leg below the knee five years ago. She learned to ride an outrigger water ski three years ago, and she became more comfortable with it last year.
This year, she ditched the outriggers all together and started holding on to the rope herself, swapping a comfortable ride behind a boat for a whole new level of skiing.
"The coolest thing I've seen is Pat," Adaptive Adventures co-founder Matt Feeney said. Two years ago, we had to talk her into going at all. This year, she got rid of the outriggers, which are like the training wheels."
Williamson may have earned her share of the spotlight, but there was no shortage of inspirational moments Wednesday and Thursday as the Behind the Boat water skiing and wakeboarding camp returned to Steamboat Springs for the fourth year.
The camp is a collaboration between Steamboat's Access Anything founders, Craig and Andrea Kennedy, and Adaptive Adventures, a larger organization. It relies heavily on local sponsors such as Ed MacArthur, of Native Excavating, who donated access to the lake, a boat and gas for the day; Shively Construction; and even the local VFW post, which donated food and its downtown gathering place for a Thursday night pizza party.
The camp combined two days of adaptive skiing with a day of rafting on the Colorado River.
A lot has changed in its four years, organizers said. Williamson's story serves as a good example.
She wasn't into water sports at all before the head-on collision on Colorado Highway 131 that led to the loss of her leg in 2004. She recovered from four broken limbs, a monthlong coma, a staph infection and a hip replacement. She first attended the camp in its second year, in 2007, and steadily has become more comfortable and more confident.
"It doesn't seem like big steps, but everyone is so nice. They just walk you through it, and it seems like the next thing to do," Williamson said about her progress. "It gets easier as you get more experience. It's just like (snow) skiing. If you don't have the nerve, you aren't going to do it."
Many of the 16 campers were repeat attenders, so like Williamson, they were past learning how to ski and were moving toward other water-based goals.
Craig Kennedy said that helped make this year's camp the best yet.
"This year's group skis a lot faster, and we have a bigger group," said Kennedy, who made progress of his own by knocking off his first deep-water start.
Although some of the skills demonstrated at the camp and the goals that campers show up with have changed, the sensations that bring them back every year haven't.
"All these people, having the support of everyone else, it just makes you less fearful - much less fearful," Williamson said. "You learn that everyone is fearful, that everyone has to overcome that fear and push themselves to do better."