Local officials discuss Aigner lecture video
Community Alliance organizer: Community Alliance has 'fought growth forever'
Document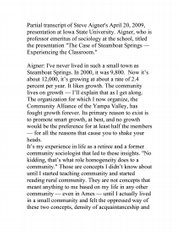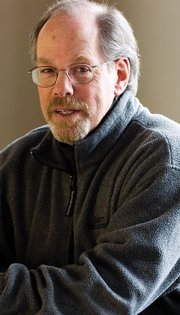 Steamboat Springs — The Community Alliance of the Yampa Valley has postponed its petition drive to make future annexations subject to a public vote, backing off from an ultimatum issued to City Council earlier this week.
The decision, though unrelated, comes amid increasing attention given to a video of an April presentation by the Community Alliance's organizer, Steve Aigner, to sociology colleagues and graduate students at Iowa State University. Aigner, 64, is a professor emeritus there. The presentation is titled "The Case of Steamboat Springs - Experiencing the Classroom."
In it, Aigner expresses his views on a variety of local issues - including local government, politics, growth, water rights and community values - from a sociological perspective. Intertwined with comments about his love for the Yampa Valley and thoughts about local traditions, Aigner talks about receiving "inside information" from a county elected official and says a mindset of Western "rugged individualism" can foster "total ignorance, I think, of how the collective depends upon everybody pitching together."
Growth has been a focus of the Community Alliance, and Aigner sheds light on the organization's mindset during his April presentation.
"The Community Alliance of the Yampa Valley has fought growth forever," Aigner said to his classroom audience. "Its primary reason to exist is to promote smart growth, at best, and no growth would be the preference for at least half the members."
On Tuesday, Aigner told the Steamboat Springs City Council that without immediate council action, "starting tomorrow, the Community Alliance will initiate a petition drive to amend the Home Rule Charter" to require public votes on future expansions of city limits. Aigner said Thursday, however, that the group has postponed petition efforts until after the council votes on the proposed Steamboat 700 project. That vote could occur Oct. 13.
Aigner said waiting allows the Community Alliance to coordinate petition efforts - the group also could try to put a vote about Steamboat 700 on the ballot.
"Our current plan is to wait and see : so we have more time to prepare and see how the city works it out with Steamboat 700," Aigner said Thursday.
Growing pains
Aigner said the Community Alliance has about 200 members. One-third to 40 percent of those, he said, are second-home owners with out-of-town addresses. The remaining members live in Steamboat or across the Yampa Valley. Its board consists of President Jack White, Vice President Rich Levy and Treasurer John Whittum, with an open secretary position. Aigner has served as the nonprofit organization's community organizer since early 2008. He moved to Steamboat Springs in December 2006.
Aigner said his April comment about growth could have stemmed in part from his work with the Vision 2030 project, an effort to gauge community values.
"I was probably thinking of the community surveys I've seen," Aigner said Thursday. "I don't actually know for sure what our membership believes, but I do know they prefer smart growth over growth, period, and I do know there are a number of people : who would be comfortable with Steamboat not changing at all. But I don't have any accurate numbers."
Routt County Commissioner Doug Monger, a Democrat, said the statement could hurt the nonprofit group. "My personal feeling here is that I think this a huge black eye for the Community Alliance," Monger said Thursday. "With Aigner coming out and saying : statements like 'we're against growth' : I guess I lost a little respect for the Community Alliance. And I guess that will mean that they've lost a lot of their broad-based support."
White said Thursday that the Community Alliance does not advocate a no-growth policy.
"All we want to do is try to make sure it's done right. It's not like we're out there trying to stop growth. That's kind of a wrong assumption, because that's never going to happen. We're going to get growth, and growth is good," White said. "We're here to represent the community as best as possible."
Monger, a fourth-generation Yampa Valley native, said he viewed Aigner's presentation Thursday.
"It just always kills me that the last guy off the pass thinks, 'Good thing I got here just in time to save it,'" Monger said. "None of us that have been here forever have any intention of ruining (the Yampa Valley) for ourselves."
Open government
Commissioner Diane Mitsch Bush, also a Democrat, defended herself Thursday when discussing statements Aigner made about learning inside information from Mitsch Bush.
"I've developed cozy relationships with lots of folks," Aigner said in the presentation, available for viewing on Steamboatpilot.com and Iowa State University's Department of Sociology Web site. "Like Diane will send me something that's going on inside the courthouse, her perspective on what's going on inside the courthouse with layoffs; she'll send me a record of what's going on, so if time comes for the Community Alliance to report to the public the internal politics of layoffs of county staff, I have Diane's report ahead of time and I can use that. I get inside information a lot of different ways."
"That statement is completely inaccurate," Mitsch Bush said Thursday. "I do not give out insider information in any way."
The county issued pay cuts to its employees in early April, when commissioners began discussing layoffs to reduce budget shortfalls. Commissioners laid off three employees in July.
Mitsch Bush added that she "would never talk about specific layoffs" and said Aigner misrepresented her.
"He made an inaccurate statement in a lecture at Iowa State University that's on a video, about what I did," she said. "I did not do that."
Aigner said Thursday that he never received anything from Mitsch Bush that was not a matter of public record and that he "may have been exaggerating" what he learned. "It's more likely that I was using that as an example of something that happened locally, : but I don't know that I actually received something," Aigner said. "I might have been using that euphemistically or as a possibility."
Rugged ground
Early in the April presentation, Aigner discussed his service on an advisory committee for a local watershed ordinance. City officials approved the ordinance in June 2007, citing a need to keep pollutants out of Steamboat's municipal water supply by regulating agricultural and construction-related activities in rural areas near city water sources. The ordinance drew initial criticism from rural landowners, who argued the proposed regulations were excessive and overlapped with existing state and federal regulations.
"One of the prevailing values I've found in western Colorado, maybe the whole West : is a distrust in government and regulation," Aigner said in his presentation. "And the other side of that is the extreme rugged individualism with total ignorance, I think, of how the collective depends upon everybody pitching together. They may have built log cabins together a hundred years ago, but : they forget that when they talk about rugged individualism."
Monger is a West Routt rancher who opposed the watershed ordinance - and still does - on grounds that it's "government without representation." He commented on Aigner's societal perspective Thursday.
"Well, I guess I'll have to disagree with that," Monger said. "This country was founded on rugged individuals. It's a perspective of the East and the West, I guess."
Aigner said he was speaking to an evolution on the watershed committee, where people came to realize the issue was about more than individual water rights and instead about what's best for the community.
"Once people start talking together, they learn from each other about different issues," he said. He added that he was speaking in an academic context and setting.
"It just means they haven't acquired the information yet. If I did use the word 'ignorant' : I was speaking to professors and we all know that when people take classes they come in with things to learn," Aigner said Thursday. "It doesn't mean that they are not intelligent or not smart or not able to learn, or redneck, it doesn't mean anything like that."
In his presentation, Aigner also discusses the 2007 City Council election, his perception of Routt County's "growth machine," and his thoughts on the failings of past city councils and leaders. Go to Steamboatpilot.com to watch the video.