Learn more
For information about the nonprofit Tasaru Scholarship Fund, contact Mary Walker at mewalker99@yahoo.com, 970-879-3810 or P.O. Box 810, Clark, CO 80428.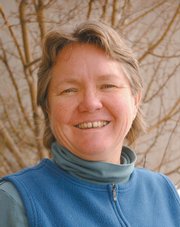 Steamboat Springs — Editor's note: When not in Routt County, Clark resident Mary Walker works at the Tasaru Girls Rescue Centre in Narok, Kenya. The center was built in 2002 with funding from the United Nations, and it provides a safehouse for Maasai girls who have escaped or been rescued from female genital mutilation and forced childhood marriage. Walker's updates appear periodically in the Steamboat Today.
Whenever I am preparing to return to Kenya, as I will be next week, I take the time to reflect on the progress of the nonprofit Tasaru Scholarship Fund that I established just 18 months ago.
When I am home, all of my time is spent talking to whoever will listen about the Tasaru Girls Rescue Centre, the amazing Maasai girls who live there, and the futures that I hope to help them secure once they complete secondary school. For some of the girls, completing school means leaving the place they have called home for six or seven years.
The Tasaru Scholarship Fund is held by Global Relief Resources, a nonprofit organization based in Santa Fe, N.M. The fund's goal is to provide Maasai girls at risk of female genital mutilation and forced childhood marriage with the financial assistance they need to obtain job skills, education and employment once they leave the care of the Rescue Centre in Narok, Kenya. With job skills and employment, these young women are undercutting the economic factors that perpetuate mutilation and forced marriage in their culture. Just as importantly, however, they are serving as role models and mentors to other young Maasai girls at risk of mutilation and forced marriage.
The network of support for the fund always is expanding. This is because of the depth of support and interest these girls and their challenges have generated in the Steamboat Springs community. What started with two or three local donations to the fund has grown, in just one year, to more than 100 active donors contributing annual amounts ranging from $10 to $5,000. One small local book club, sponsoring one girl's college education in Kenya, has grown into more than a dozen small groups from California, Florida, New York and Canada sponsoring individual girls.
Local and civic groups have given invaluable support to all of the girls at the Rescue Centre by financially helping rebuild the water catchment system and providing underwear, socks, toothbrushes, medical supplies, Christmas gifts, eyeglasses and school supplies.
I wish it were possible to share with you all the appreciation and pride that the girls living at Tasaru feel for the opportunity they now have to shape their own futures through education, employment and economic independence. Because I spend so much time with them, these girls and young women often express their gratitude to me. And through their letters they send me from their schools when I am away from them, and an occasional phone call just to hear their voices, I know firsthand that their lives are changing for the better. But this sense of fulfillment rightfully belongs to everyone who has given in so many different ways.
It is not always easy to remain optimistic about this effort. But I recently was reminded that "it is easier to light a candle than to curse at the darkness," as Adlai Stevenson said, when measures seem too small or efforts ineffective. I think it is this sentiment that led me to adopt the philosophy of "one girl at a time" for the fund.
No doubt, difficulties and challenges await me next week at the Rescue Centre. But I am counting the hours until I see the faces of the girls when I enter the gate, after a three-hour, dusty, hot and cavernously bumpy drive from Nairobi. The girls will want to hear everything about my family, and they will want me to tell them stories from my place. They will tell me that I have become huge while being home. How great is that!