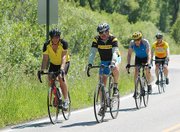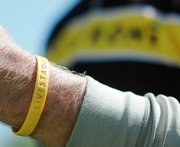 Steamboat Springs — No one can help Brad Cusenbary, though, there's been no shortage of trying.
The Rio Grande Mexican Restaurant made an attempt. The popular downtown Steamboat Springs margarita oasis vowed to dedicate the proceeds from its anniversary party in March to Cusenbary.
Cusenbary and Rio had shared a long history of working together - the restaurant served as the reliable title sponsor to the 12 and 24 Hours of Steamboat mountain biking events Cusenbary helped organize.
When the 38-year-old cycling enthusiast was diagnosed with a brain tumor, helping raise money was the only thing that seemed to make sense.
But, Cusenbary turned them down.
"I told them to send it to the Sunshine Kids," he said Saturday, smiling brilliantly as hundreds of people crammed into Little Toots park.
Like the Rio, many of them were there trying to help Cusenbary, too. The 12 Hours of Steamboat was called off after his December diagnosis, but Saturday's Tour de Steamboat went on. And with Cusenbary serving as co-director, there was little trouble generating interest.
"The energy is greater," said Katie Lindquist, who shared in the organization responsibilities with Cusenbary and fought through her bout with melanoma last year. "We have a greater number of riders. We have a greater energy as a team. We haven't had any problem getting volunteers, and even the staff members we used to pay have said they just want to donate their wages.
"People want to do something for the Sunshine Kids in honor of Brad."
But Cusenbary will never see any of that money, either. It also will go straight to the Sunshine Kids.
And Cusenbary said there's nothing that could make him happier.
A perfect day
It was a great day for a bike ride, Steve Williams said Saturday afternoon, the sweat only just dry from his nine-hour, 108-mile Tour de Steamboat ride.
"It's a wonderful ride," Williams proclaimed. "It was a really nice day. The temperatures were pleasant. The aid stations get better every year, and the state patrol really helped keep the roads safe. And, there were a few more people out there this year, which was fun."
The event swelled this year, drawing more than 250 riders for a pair of noncompetitive rides, which started at 7 a.m. The short version sent riders on a 40-mile out-and-back to Stagecoach Reservoir. The long course, meanwhile, launched riders on a 108-mile loop, up over Rabbit Ears pass, down south of Kremmling, back through the Gore Range, up Colorado Highway 131 and finally back into Steamboat Springs on River Road.
"We had a little extra headwind on Gore Pass and out around Toponas, but that was the only thing you could say," Williams said. "Other than that, it was beautiful."
A steady stream of riders poured across the finish line all afternoon Saturday, exhausted cyclists collapsing in the grass in any shady spot they could find in the Yampa River-side park.
The worst call
The call came as two snowstorms bore down on Cusenbary and his wife, Laura. They had just battled through one coming over Vail Pass after visiting the Steadman Hawkins Clinic in Vail.
They were on their way to Denver, a storm closing down Interstate 70 and one looming north on Colorado Highway 9, as well.
"We thought I had a pinched nerve in my neck, but they put two and two together. They said, 'You need to see a neurologist in Denver, but before you go, you need to get an MRI,'" Cusenbary recalled. "Before we got to Silverthorne, we got a call. He said, 'Sorry to be the bearer of bad news, but a neurologist isn't going to fix what you have. You have a brain tumor.'
"We drove right home after that. We barely said anything. What can you say?"
It's hard to tell now what Cusenbary's dealing with. He laughed often, Friday night in a pre-ride dinner and silent auction to help raise money for the Sunshine Kids and again the next day, as the legions of riders rode the tour to fight cancer.
His hair is there - buzzed - and there's only one small section that's cut any shorter. It looks like a barber may have been momentarily distracted by a telephone call, not like an X marks the spot for cancer.
But Cusenbary's hardly the kind of person to stay bed-ridden, worrying about what might happen.
"You've got options when this happens," he said. "You can sit around and feel sorry for yourself, or you can live your life."
Even doctors don't actually know what will happen. Cusenbary said that because of the tumor's location, any major surgery could paralyze the right side of his body. A January operation wasn't able to shed much extra light on the situation.
Although he said the odds heavily indicate it's malignant, they don't even know that for sure.
"It's so unpredictable with cancer, they don't shoot odds out there," Cusenbary said. "They don't tell you what's going to happen next month."
He said recent chemo and radiation treatments have helped.
"It is shrinking," he said. "We will know more when we go back in September about exactly how much it has shrunk."
'It's not fair'
Cusenbary and Lindquist's support of Sunshine Kids didn't start with that phone call.
Together with the support of sponsors and friends, they raised $20,000 with last summer's Tour de Steamboat.
Their money helps the program send children battling cancer on trips, often to Steamboat.
The effects of the efforts were obvious throughout the weekend.
Katie Sparks, a California 17-year-old who was diagnosed with cancer four years ago, spoke at the Friday night dinner.
"They just asked me one question," she said, remembering the news being delivered. "They said, 'Do you know what leukemia is?'"
The team captain on her soccer team that summer, she said she couldn't continue to play.
"From that moment, your life is forever changed," she said.
Sunshine Kids helped set things right, if only for a few days every year.
"Something cancer takes away is your childhood. You have to grow up when you have cancer," she said. "Sunshine Kids gives that back to you. You can be normal for once, even if just for a day."
And that's why Cusenbary said he doesn't want any help, why, even with problems of his own that are hard for so many to understand, he's directed all his enthusiasm this summer to helping raise money to solve other people's problems.
The event this year raised at least $15,000 for the Sunshine Kids program.
"Now more than ever, I can relate to them," Cusenbary said. "This means the world to me right now. As an adult, I can handle it, but it's not fair that those kids have to suffer through this."