Tailwind Tours
The new Steamboat Springs-based cycling tour company offers all-inclusive trips with experienced cyclists in and around Steamboat.
Cost: A half-day tour around Stagecoach Reservoir costs $134 a person for a tour of eight people. A full-day ride in the area would cost $247 a person.
Online: Check out www.tailwindtours.com for more information.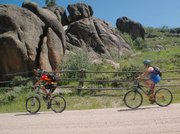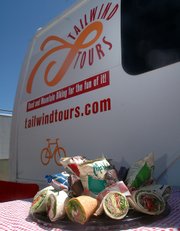 Steamboat Springs — The trail Wednesday was an easy one, and Cathy Wiedemer barely broke a sweat as she led five riders over the gentle hills of a mostly downhill gravel road.
The ride started 18 miles southeast of Stagecoach Reservoir and followed Routt County Road 16 all the way to the refreshing water. Short, gradual climbs did little but warm up the legs on the mostly downhill route. Still, a few steep ascents on the Elk Run Trail around the Routt County reservoir made the cold water and sandwiches waiting at the end worth every pedal.
"We wanted to showcase a ride accessible to a lot of people," Wiedemer explained.
They won't all be easy, though, and that's the goal at Tailwind Tours, a new road and mountain bike touring company that opened for business this summer in Steamboat Springs.
Tailwind Tours prides itself in its flexibility.
"Want to schedule a ride around fly fishing?" operations manager Kurt Spitzner asked. "We can do that. We have guides that are also fly-fishing guides."
Fly-fishing is just one example. The Tailwind Tours shuttle bus - complete with a pull-along trailer designed to hold everyone's bicycles - is available for any imaginable way to start or finish a ride.
Meet a group after a day of horseback riding around Steamboat Lake? No problem. Be waiting to exchange bicycles for tubes at one end of the Yampa River, then trade back at the other? Easy, Wiedemer said.
"It's just a blank canvas, and cycling is the only component there," Wiedemer said. "We can help the client design what they want to do, and use our imagination and resources to help them build a perfect tour."
The idea is to help dispel the notion that one of Steamboat's most popular outdoor activities - bicycling - is inaccessible to inexperienced or out-of-town riders.
The company has enlisted the help of more than a dozen different guides, each with their own specialties.
Tailwind Tours is the brainchild of Mark Cox, who also runs the Bridgestone Winter Driving School in Steamboat.
"A group of us that all worked together at the winter driving school were all biking enthusiasts and had all taken a lot of trips to different places," Cox said. "We realized we had the equipment we needed sitting right there in a people mover and decided we might as well put it together."
The new operation has an office, a shuttle bus labeled with bright company details, Tailwind Tours jerseys and even water bottles.
That didn't all happen overnight, though. The idea first took root several years ago.
Once he began to assemble a team, Cox didn't jump right into the mix with Tailwind Tours.
"We were operating quietly for the first year and a half. Then, we recognized there was a lot more need that we'd originally anticipated," Cox said. "Now, we are growing to meet that need."
This is the first summer they've started to grow, but two years ago, the company began by leading a tour for One Steamboat Place.
It ran several tours last summer, then started out the 2009 season by servicing its first repeat customers.
A group of young athletes from a hockey camp assaulted the trails on Emerald Mountain last summer. This year, they rode the Elk Run Trail around Stagecoach.
"We had gotten their sizes and gone to Orange Peel and gotten their bikes. The kids came out, and we had their bikes on the trailer," Wiedemer said. "We had their helmets, and they were fueled up and ready to go, food and snacks and water waiting for them."
It was a ride tailored for the group - not too taxing for a batch of inexperienced mountain bikers.
"In terms of what we've done already, we've had kids from 7 years old up to people 80 years old," Spitzner said. "We've been getting as much interest from cooperate groups as we have individuals and families. We have a pretty broad array of potential clients."
By next summer, Tailwind Tours hopes to be even stronger, attracting vacationing clients before they even leave home.
"We are hoping with next summer, with more time for PR and word of mouth, we get people coming to Steamboat with the Tailwinds portion already built into their vacation," Wiedemer said. "We will have talked to them and done the homework to see what they want, but they'll just show up, and then it's fun time."