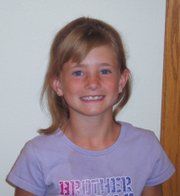 Hayden — The Hayden Public Library announces its fifth Reader of the Week for the Summer Reading Program. Eight-year-old Faith Day is this week's top reader.
Faith will be in third grade next year at Hayden Valley Elementary School. Her parents are Traci and Chad Day, and her siblings are Gracie, 6, and her baby brother Tristin, 2. Faith's friends are Alli, Paige, Molie, Bruke and Cassidy, and she has lived in Hayden "since she was born."
There are many animals in Faith's life: 28 cows; three horses named Buttermilk, Moe and Lacy; two dogs named Major and Crocker; and two buffaloes named Ick and Tick. When she grows up, she would like to be a country singer.
Her favorite colors are purple and pink. Her favorite food is spaghetti. Her favorite movie is "Bolt." Her favorite sport is riding horses, and she hopes to barrel race soon.
Her favorite thing to do in her free time is read. Faith's favorite book is the one she is reading, called "Snowbound Mystery," by Gertrude Chandler Warner. In school, she loves science.
This summer, the family traveled to Florida and visited Disney World. Faith said the week there "went fast!" When asked for advice for other children about reading, she replied, "just try reading." When she found out she won the Reader of the Week honor, she smiled very big and said, "I was so happy and excited!"