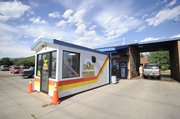 Steamboat Springs — Frank Cefaratti Sr. loves dogs.
An active member of the local dog community - having led the Responsible Dog Ownership Group of Steamboat to get off-leash privileges for their dogs at Rita Valentine and Spring Creek parks - Cefaratti and his son, Frank Jr., had another idea.
They decided to offer a new service at their Mountain View Car Wash & Detailing - a self-service dog wash.
"We're just crazy nut dog lovers," said Cefaratti, who owns two black Labradors, Jack and Hoover. "To me, they're a gift from God. That's how we look at it. They're just wonderful."
Cefaratti said the response since the dog wash opened July 6 has been great.
Because it's full service, he said, dog owners don't need anything. There's a padded, stainless steel bathtub with a hose, Cefaratti said. He said they provide the shampoo and conditioner, aprons to keep owners dry and even treats for the dogs.
The small building in front of the self-service car wash is heated or cooled depending on the season, and it's open from 8 a.m. to 8 p.m. year-round.
"It fit in perfectly in our town," he said. "The town needs it. People are loving it."
Cefaratti said his dog wash was the first state-of-the-art facility in Steamboat. But he admitted that his wasn't the first dog wash.
That distinction belongs to Paws 'N Claws 'N Things. Owner Dave Terranova said dog washes have been offered in their pet supply store since before he and his wife, Jodi, bought the business four years ago.
Like the dog wash at Mountain View, Paws 'N Claws provides everything needed to clean your pups, including the bathtub and hose, shampoo, conditioner and aprons.
Having been the only game in town for some time, Terranova said he's not worried about the competition.
"It's a great service, and I'm excited to see the other guy open up to give people some other options," he said.
Terranova added that Mountain View's dog wash would benefit Steamboat dog owners when his was booked or not open. Paws 'N Claws is open from 9:30 a.m. to 6 p.m. Monday through Friday and from 9:30 a.m. to 5 p.m. Saturday, with dog washes stopping about an hour and a half before closing time.
Paws 'N Claws rents their dog wash by the hour. Washes for dogs that weigh 30 pounds or less are $7. Dogs up to 55 pounds are $9 or $10, depending on the amount of hair. Dogs weighing 55 to 100 pounds are $11 or $13, depending on hair. And all dogs that weigh more than 100 pounds are $16 to wash.
Mountain View charges $8 for the first 10 minutes of the wash and $1 for each additional minute. Cefaratti said his customers have averaged about 15 minutes per wash.
So far, Cefaratti said they're having a lot of fun with the dog wash.
"We're getting all sorts of kicks and giggles," he said.