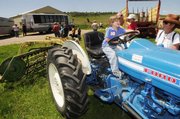 If you go
What: Cow Town Ranch Tours
When: 1 to 4:30 p.m. Thursday
Where: Depart from Artists' Gallery of Steamboat, 1009 Lincoln Ave.
Cost: $50 for adults ($40 if you ask), $10 for children ages 7 to 12, and children ages 6 and younger get in free
Call: Extension Office at 879-0825 or Steamboat Central Reservations at 800-922-2722 to register
Steamboat Springs — The buses have been packed to the gills on this year's Cow Town Ranch Tours, organizer Marsha Daughenbaugh said.
That's a welcome change after a year when two tours were canceled because of lack of interest, she said. The Community Agriculture Alliance and the Colorado State University Extension Office put on the ranch tours, hauling locals and visitors to a couple of ranches to teach them about agriculture.
"This year, we've had to turn people away," said Daughenbaugh, executive director of the alliance. She and Extension Agent CJ Mucklow arrange the tours, which are in their fifth year.
Organizers received grants this year that allowed them to charge $40 for adults instead of the regular $50. People must ask for the discount to receive it. Children ages 7 to 12 get in for $10, and those 6 and younger get in free.
Daughenbaugh led Thursday's tour with Diane Holly, who runs Overlook Ranch. The afternoon consisted of stops at the Brenner Ranch and the Wille Ranch. Participants from Minnesota, New York, Texas, Florida and other areas eagerly questioned the ranchers they met.
Pete Wille stood on his South Routt County land like a caller outside a circus tent, extolling the virtues of his sheep while his long, waxed mustache waved.
"You cannot beat these Rocky Mountain lambs coming off of these mountains," Wille told the rapt crowd.
His family raises white-faced Rambouillet sheep, as well as black-faced meat sheep. Rambouillets are used primarily for their wool.
"I am tickled to death to see so many people on a ranch tour that want to learn about the ag world," Wille said.
He kept his audience engaged and chuckling.
"Does your wife spin?" one person asked.
"Yeah, around and around me like a top," Wille joked.
He explained the challenges of raising sheep and encouraged people to buy American lamb. Sheep ranchers in the United States compete primarily with New Zealand and Australia in the meat market, Wille said.
Wool sales are a bit different.
"The wool market's been up and down according to the dollar values, the exchange rate with China, because China is a big market for us," Wille said.
At Gerald Brenner's ranch, participants learned the particulars of haying. Brenner taught them about the hulking pieces of equipment required for the process and responded to questions about weight, prices, weather and customers.
One of the challenges is dealing with critters, Brenner said.
"I respect badgers because they are some of the toughest animals I've ever encountered," he said.
Steamboat Springs resident Ann Ross has attended all three ranch tours this month. Ross has lived in Steamboat part time for 30 years and full time for four years.
"I decided it was time to learn about the ranch country," Ross said. "I know downtown, and I know the mountain, but I don't know the ranches."
She'd brought a disposable camera from a photography class and was snapping away. Ross encouraged others from Steamboat to tour the ranches.
"I know my friends I ski with have no idea what's out here," she said.
Josie and Norm Neill, of Vineland, N.J., also rode along on the educational trip. The two have been visiting the area for 20 years and have a place at Torian Plum, Josie Neill said. They saw the tours listed and decided to check them out.
The Neills enjoyed learning about the community where they vacation.
"I'm really glad we did it," Josie Neill said.