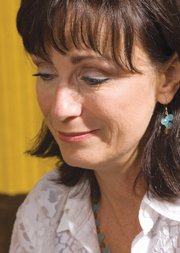 Stepping up for support
The fourth annual Steamboat Springs Relay For Life starts at 6 p.m. Aug. 7 at Steamboat Springs High School. Participating teams will walk through the night to show their support of the battle against cancer. Registration for the event is open, and donations can be made directly to team members or online at www.steamboatrela.... Those who wish to form a team can call Kassandra Collins at 871-4652.
Steamboat Springs — It's no secret how Kassandra Collins feels about cancer.
"I want to kick cancer in the ass. I'm really angry. My mom died too young. She was 52 years old," Collins said. "It breaks my heart that she didn't get to see my daughter. She doesn't know my husband. Too many lives have been lost way too young."
Collins, a 50-year-old Steamboat Springs resident, lost her mother to breast cancer 17 years ago. She herself was diagnosed with colon cancer in December 1998 and has been in remission for 8 years. Last month, the disease struck close to home, once again. Collins' father was diagnosed with pancreatic cancer June 23.
"I was really angry," Collins said. "I was really angry at cancer. I was really angry that we still haven't found a cure. I was really angry that cancer doesn't prejudice. : It just decides who to pick, and it's not fair.
"Once again, the fear and the human frailty of what cancer does to people comes full circle. It makes you think twice about how you live your life."
Collins' father, Richard Humbert, underwent a major, seven-hour surgery to remove a tumor. Pancreatic cancer is one of the grimmest forms of the disease. Collins said her father is being given just two to three more years to live.
"My dad has been very positive. He's said he wants to see his 20 grandchildren all graduate from high school," Collins said. "I think it's a little unrealistic, but it's an awesome goal. If you embody that spirit, it gets you up, it gets you moving, it gets you thinking about what you need to do to live 20 more years.
"There's a lot of life left to live; that's the only way I can stay positive with the negativity of cancer in my life. I truly try to be a positive person every day, and I try to see the lessons in life. I try to wake up in the morning, and I have a choice about how I'm going to approach the day. I'm alive. I'm breathing. I have an amazing daughter, a wonderful husband. I live in a great city and have a great family. The rest doesn't really matter because it can all be gone in a moment."
In addition to staying positive, it's also important for Collins to be an active soldier in the fight against cancer. She wasn't always that way, preferring to keep her experience with the disease a private one. But two years ago - shortly after returning from China with her husband, Steve, and their newly adopted daughter, Sienna - Collins was asked to walk the "survivors lap" at the 2007 Relay For Life in Steamboat Springs.
The emotional experience marked yet another turning point in Collins' life.
"There's all these people cheering for you. It was such an amazing feeling," she said. "Here's these perfect strangers clapping for you and cheering for you because you're a survivor. I realized that by being more public about it, I could help people. I could raise awareness."
The next year, Collins joined a team and raised $1,500. This year, she has taken a more official role and is in charge of team development. There are 51 teams so far, down from 55 last year. Also, this year's teams are not as large as last year, and fundraising is lagging.
Collins guessed the economy is having an effect on people's participation, but she and other Relay organizers will work to the last minute to meet their goal of raising $205,000 in order to top last year's total of $200,000.
Event co-chair Linda Jackson stresses that cancer doesn't notice the recession, and this is no time to back down. Cancer is set to replace heart disease as the nation's No. 1 killer in 2010, Jackson said.
"We're redoubling all efforts everywhere," she said. "The disease itself is escalating, in the first place, which is disheartening. : The friend to cancer is complacency. That particular process only defers winning the war we're fighting."
This year's Relay includes some new events that will make the fundraiser a bigger community experience, Jackson said. During the event, teams are encouraged to host face-painting, Scrabble competitions, s'mores cook-offs or anything else they can think of at their tents.
"We haven't done that in the past," Jackson said, "but we really want the public to come visit us during the night."
Those who wish to form a team can call Collins at 871-4652.
"The whole mantra is, 'Cancer doesn't sleep.' The whole idea behind Relay is, for one night, nor will we," Collins said. "We will fight as hard as cancer fights. We will find a cure."