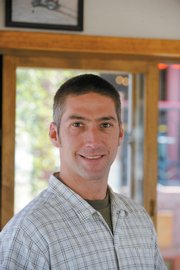 Hosted Tours owner Brad Somers has opened for business in a kiosk on Lincoln Avenue at Seventh Street. Somers has run Hosted Tours mostly online for four years. The ski instructor also is a licensed travel agent. He's been in Steamboat Springs for seven years.
Somers calls his kiosk the Adventures and Lodging Center. He books lodging and activities for visitors.
"I'm kind of a one-stop booking agent," Somers said. "You can book it all."
He refers to Hosted Tours as a personal concierge service. Somers opened in the spot about June 20.
"It's been real good for me being able to be down here and not just be an online business," he said.
Hosted Tours can be reached at 970-870-7901 or through e-mail at brad@hostedtours.com. Somers' Web site is www.hostedtours.com.
Young Professionals meeting is Thursday
The Young Professionals Network has scheduled its July meeting for 5:30 p.m. Thursday at the 3 Saddles Bar & Grill deck at the Sheraton Steamboat Resort. The event features Suzanne Schlicht, publisher of the Steamboat Pilot & Today. The event is free for Young Professionals Network members and $10 for guests. RSVP to Marion Ayer at marion@steamboatchamber.com.