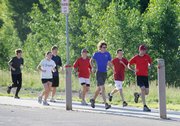 Steamboat Springs — When Greg Long looks at the success of his training and running programs, the criteria is changing.
Long, who helps out with the Steamboat Springs High School cross-country team in the fall and is the distance coach for the track and field team in the spring, has started to take a new approach to what he deems as success.
"You get the results if you do the running," Long said. "One of my goals is if the kids want to go run in college, I've done a good job. It means they had fun."
In order to prepare runners for potentially competing in college and for successful high school careers, Long has started running camps Monday, Wednesday and Friday evenings and Tuesday and Thursday mornings.
The camps help runners build up miles in preparation for the upcoming season and draw current high school students, former high school students and even some college runners.
"It's all about getting mileage before cross country starts," said Jack Burger, a rising junior. "It's really beneficial. Where I started last year was quite a ways down the ladder."
Burger and teammates Gus Allen, Jeff Sperry and Asher Rohde took to Howelsen Hill early Thursday morning for a run. The group hit the slopes along with Long and future college runners Brittany Long and John Cutter.
Greg Long said the workouts aren't designed as high-intensity at the moment. Rather, what the runners are doing now is building up miles for future seasons.
This includes running trails across Steamboat and a recent trip to the top of Buffalo Pass where runners camped and ran for three days.
"When you get summer training in, you start the season that much better so you can get that much better in the season," Rohde said. "It's my first year doing it, but I can already see a difference."
Brittany Long, who will run for Portland State University in the fall, and Cutter, who will run for the University of San Diego, were training for their upcoming seasons. Greg Long said another integral part of the camps is mixing high school and college runners together.
This, he said, allows a runner like Rohde to see what it takes to potentially compete at the collegiate level.
The Sailors cross-country team has high expectations for the coming season. All the runners admitted Thursday that the goal is simple: make state as a team.
Whereas in years past, runners were expected to do work on their own before the season, the camps are allowing them to build a foundation of fitness together.
"Last year, they just told us to run over the summer," Burger said. "To actually bring a team together and have practice dates, I think everybody will have the same mileage."
And like so many other sports, championships and teams are made in the offseason. Starting at the first practice in August, Long said, means runners are too far behind to be at a competitive level.
But with the camps and miles put on in the summer, Long is confident that come fall, Steamboat will be more than a blip on the cross-country radar.
"It's super important. If they are going to do well in cross country, now is when they build their season," he said. "The other thing that happens is building their base, we can keep them injury-free during the season.
"We'll give them more intensity during the season. They don't have to start at ground zero. The kids that are going to do well are running now."