At Home, Summer 2009
This story appears in the summer 2009 edition of At Home in Steamboat Springs magazine. Find the magazine in racks across Steamboat. View the online edition of the magazine here.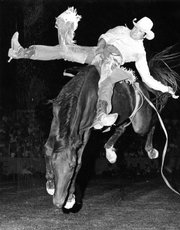 Rodeo season 2009 is upon us, and it's remarkable to think many fans of the Steamboat Springs Pro Rodeo Series aren't acquainted with J.C. Trujillo. He's only the most famous bronc rider this cow town has ever known.
The easygoing Trujillo was nowhere to be found at this year's Cowboys' Roundup Rodeo at Howelsen Hill during the July 4 holiday. He was preoccupied managing a much bigger rodeo in his hometown of Prescott, Ariz.
Your best chance to catch up with the 1982 World Champion bareback bronc rider might be to wander over Dunckley Pass in late September in hopes that he's there at his ranch in Pyramid, on the headwaters of the Williams Fork. It's the time of year when he should be getting ready to guide elk hunters.
Catch him around a campfire when the constellations are bright in the sky over the Flat Tops, and J.C. might just recite some of his own cowboy poetry for you.
"Yeah, I still do that once in a while if the mood is right and I have the right brew in my hand," he said with a friendly drawl.
For most of the year, however, J.C. and his wife, Margo, are living the good life managing a ranch owned by the Yavapai Tribe in Skull Valley, just west of Prescott.
"I ride my saddle horse two or three times a week checking on our 50 cows," J.C. said. "And I team rope a lot."
J.C. also has a full-time gig as general manager of the world's oldest paid performance rodeo. Prescott Frontier Days observed its 122nd anniversary June 29 to July 5. The parade and eight performances drew tens of thousands of spectators from all across the world. Prescott Frontier Days is popular among Europeans who are fans of the American West.
A couple of months after celebrating his 61st birthday, J.C. isn't about to give in to the temptation of jamming a gloved fist into a bareback riggin' and calling for the fellas to open the chute. Those days are in the past. But that doesn't mean he doesn't feel a strong pull every time he gets around a rodeo.
"I'll never get over it," he admitted. "Sometimes when I'm at a rodeo, watching from my saddle horse, and I see a horse that looks like it would be nice to ride - one that you could score a lot of points on - I'll catch myself rocking back and forth (in a spurring motion) in the saddle.
"When I first retired, I used to think about it all the time. That's the way it is when you live it, eat it, think it the way you have to," to become a world champion.
Trujillo grew up in Prescott where his father, Albert, competed in Frontier Days as early as 1936. J.C. got his start in a calf riding event at age 6. It wasn't too many years later that his championship drive and ability revealed itself. He won the Arizona State High School Bareback Riding Title at age 17 and placed third in the National High School Finals. At Arizona State University in 1968, he won a national collegiate championship.
J.C. hit the pro rodeo circuit full time beginning in 1973 and had a career that outlasted most - he qualified for a dozen National Finals Rodeos - competing in as many as 130 rodeos a year. He finally retired at age 37 from a sport that dishes out at least as much punishment as NFL football.
In 1985, his final year on the circuit, he earned $57,000 in prize money, competed in the NFR and went out a winner.
One of J.C.'s biggest payouts came at the Calgary Stampede when he won a $50,000 bonus prize.
"That was a ton of money back then!" he recalled.
He used the jackpot to buy his 50-acre retreat in Pyramid, just across the Routt County line in Rio Blanco County.
At home in the 'Boat
Like that of many longtime Steamboat residents, J.C.'s path to the Yampa Valley was spontaneous. He was competing in the Denver Western Stock Show one January - make it 1975 - when famous rodeo cowboy Larry Mahan of Salem, Ore., invited him to a ski party in Steamboat. The party turned out to be the second-ever Cowboy Downhill (yes, it was a wild party) that Mahan and Olympic skier Billy Kidd put together.
"I fell in love with skiing, and I fell in love with Steamboat," Trujillo said.
The up-and-coming bareback rider made Steamboat Springs his home base and lived with another Olympic skier, Moose Barrows, for several years.
After he and Margo were married, they settled into a condo at Meadowlark. During those years, J.C. and another pro rodeo cowboy often flew in the other cowboy's Cessna to cover as many performances and buck out as many horses as they could.
Those were days of constant travel and excitement. J.C. vividly recalls the sensation of winning the world championship.
"That was a great, great thrill in my life," he said. "Rodeo is a unique sport - not only do you have to have the skills, but you also have to have the right draw (of a bucking horse in the championship round). I was one of the fortunate ones who had the determination to realize my lifetime goal."
Just as Steamboat is fortunate any time that J.C. and Margo find their way back to the Yampa Valley.