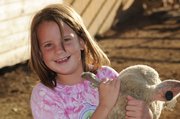 South Routt — Kayla Wille was in the right place at the right time with the right sheep.
The 7-year-old South Routt County resident won the title of supreme grand champion at an open sheep show Sunday in Bowman, N.D., with a ewe lamb her family had bought the day before. Kayla was traveling with her dad, Rod, and her grandparents, Pete and Charnel Wille. They'd bought the lamb in Minot, N.D., and stopped at a hotel in Bowman just by chance.
Rod Wille found out the Bowman County Fair was going on and that it included an open sheep show. His daughter was excited, Charnel Wille said.
"Kayla said, 'Grandma, Grandma, I'm going to show my sheep tomorrow,'" she said.
Kayla brought her "A" game, apparently. She competed against 10 others in the overall competition and four others in the championship class. Her Rambouillet sheep took the overall title.
"It was just kind of a fluke that we rolled into that town," Rod Wille said.
Kayla has shown quite a few sheep already, he said. She isn't old enough to participate in the 4-H livestock project, but she's part of what's called the futurity program with the American Rambouillet Sheep Breeders Association. Participants buy a sheep, raise it for a year, and then show it.
The program aims to help youths start flocks of their own, Rod Wille said. Kayla has participated for two years. Her new ewe lamb will be part of the project.
At the open show in Bowman, Kayla was graded on the sheep, not her showing abilities. But she still had to lead it out and square it up to give the judges the best possible view. Kayla had trouble getting the ewe to stay still for a photo shoot Tuesday. She was getting sore from holding the sheep's head.
"Last time, she didn't hurt my arm because there were lambs around" to distract her, Kayla said.
She'll be in third grade at South Routt Elementary School next year. Kayla said she enjoyed working with sheep.
"I get to work with lambs and do 4-H and stuff," she said.
Rod Wille said there weren't many open sheep shows in this area. By winning supreme grand champion, Kayla earned points in the futurity program. The top 10 participants split a pot of money at the end of the year of raising their sheep.
"Showing the sheep, it's competitive," Rod Wille said. "Not only do you have to enjoy showing the sheep, you have to be competitive. I think she's competitive, which is good."
The $100 Kayla won in North Dakota might sharpen her competitive edge. She plans to put the money toward a corgi puppy. Kayla needs another $180 - maybe a few more "flukes" - to hit the goal.