District title within reach for Little League team
The 9- and 10-year-old all-star baseball team from Steamboat Springs is just one win away from the state tournament, thanks to a pair of wins last weekend in Frisco.
The local team opened this year's district tournament Saturday with a 18-7 victory against Summit County. Behind strong pitching from Robi Powers, Channing Conner, Zach Cooke and closer Tucker Limberg, and timely hitting from Jack McNamara, the Steamboat team rolled to the opening-round win. The pitching staff game up just one hit, and McNamara's first-inning grand slam set the tone for the game.
On Sunday, Sean Patten hit a leadoff home run in the second-round game against Grand Valley. The Steamboat offense didn't stop there. Cooke, McNamara, Payton McElhiney and Colton Pasternak each had multiple-hit games. Davis Petersen and Limberg were both 3-for-3.
Andrew McCawley and Pasternak anchored Steamboat's game on the mound, with Limberg coming in to close the door on Grand Valley in the fifth and final inning.
"This game showed excellent teamwork as the boys all played with a single goal in mind," coach Greg Kmetz said.
The Steamboat team returns to Frisco today to play the winner of Summit County and Grand County in the district championship game. If Steamboat wins, it will be invited to the state tournament July 25 to 29 in Denver.
- John F. Russell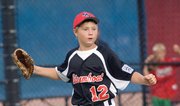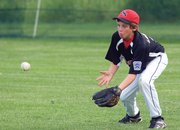 Steamboat Springs — There was a look of disbelief in Koby Bishop's eyes after the young player made the final out in Monday afternoon's Little League district tournament game at Emerald Park. Fortunately, he and his Steamboat Springs teammates still have a chance to walk away with the district championship.
Steamboat's 11- and 12-year-old all-stars team lost to Summit County, 7-2, on Monday, just a couple days after beating them by 10 runs.
"The most disappointing thing was our hitting," coach Tim Bishop said. "We scored two runs, and that's not going to win too many games. We were very average, to below average, hitters today. I give their pitcher credit, and I don't think we made their infield or outfield work too hard today. We didn't get the ball in play enough to put the pressure on them."
Because it's a double-elimination tournament and Steamboat entered Monday's game undefeated, the boys square off again at 5:30 p.m. today against Summit County with the district title on the line. The game is at Emerald Park.
Monday's game was a back-and-forth contest through the first two innings. Steamboat scored first after a single from Jesse Pugh and a double by Camden Lawhead put runners at second and third. After Ryan Jeep struck out, Spencer Petersen came through with a two-out single that scored Pugh and gave Steamboat a 1-0 lead.
But Summit answered in the bottom of the first inning with two runs thanks to a double from Thomas DeBonville and a bouncing single up the middle by starting pitcher Noah Glasco.
Koby Bishop got things rolling in the second after walking and them moving to second on a wild pitch. Pugh came through with an infield single that turned into extra bases thanks to a throwing error. Bishop scored on the play to tie the game at 2.
But things got away for the local team in the third inning. Steamboat was unable to manufacturer any offense at the plate in the top of the inning, and then Summit exploded for five runs on four hits.
Summit chased Steamboat starting pitcher Billy Clark from the game. Jeep came on in relief to pitch 3 1/3 innings but not before Summit had taken a commanding 7-2 lead.
Summit couldn't score in the final three innings, but Steamboat also struggled to get the hits the team needed to get back in the game. A brief rain delay interrupted the Little League district championship game that ended without another run.
"I give Summit a lot of credit," Tim Bishop said. "(Summit) had every reason to fold their tents up. We beat them by 10 runs the other day, we had (Sunday) off, and they had to come play. I give them a lot of credit because they wanted this game more than we did. We come back tomorrow with our staff ace, so hopefully the ball will be back in our court."