In memory
A service for Brian 'Tigger' Stothart will be from 4 to 8 p.m. July 30 at Little Toots Park, pending city approval.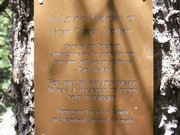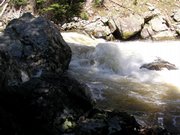 Steamboat Springs — By all accounts, Brian "Tigger" Stothart was an elite boater, a funny guy and a thoughtful friend. But his real passion, friends said, was his wife, Valerie, and their children, Samuel and Sophia.
"In all the things he enjoyed doing, he was best at being a family man, being a dad," Valerie Stothart said.
Steamboat Springs resident Brian Stothart, 35, disappeared June 13 while running the Encampment River in southern Wyoming with four others. Stothart was a C-1 boater, which meant he paddled a canoe. The group he was with found his boat, and Carbon County Sheriff's officials found nothing.
Friends searched for him every weekend after he disappeared, and a sheriff's deputy found Stothart's body Saturday.
The "Tigger" nickname fit Stothart, his wife and friends said.
"He was just, I can't even explain, a huge ball of energy," said Dan Walsh, who had been searching for Stothart. "He was like Tigger, seriously, just bouncing off the walls and always excited and happy and making the best out of any situation. I've never seen that kid down and complaining, never. He was always the one who came and cheered you up."
Walsh said he met Stothart 15 years ago. Stothart got Walsh into paddling, and the men played music together. Walsh, Stothart and Erich Ferguson spent time together when they all lived in Walton Village.
Life with his family
Stothart and Valerie met in 2003 and married Feb. 3, 2004. Sophia Stothart is 3, and Samuel Stothart will be 5 in August. The blue-eyed, sandy-haired pair resemble their dad, Walsh said.
"They just look so much like him, it just breaks my heart to see them," Walsh said. "It's like looking right at him."
A trust fund has been created for Samuel and Sophia. Donations can be made at Wells Fargo Bank to the Stothart's Children Trust Fund. The family plans to hold services for Stothart from 4 to 8 p.m. July 30 at Little Toots Park. Double Z Bar & BBQ will cater.
Brian Stothart was a stay-at-home dad for two years before Sophia was born, Valerie Stothart said. He'd also spent several months with his family after being laid off this year, she said. Together, the four rafted more than 200 miles of river.
Darrell Haugh has been friends with Brian Stothart for 12 years and said Stothart was the best open canoeist and C-1 boater he knew. But Samuel, Sophia and Valerie were always more important, Haugh said. He recalled cutting short a river trip because Stothart felt that his wife needed him.
"He really lived, lived, lived for his family," Haugh said.
The accident
On June 13, Stothart was boating with Jimbo Dickey, Helen Lowe and two Wyoming men they had met.
When Brian Stothart headed for the Encampment trip, he left a boating book on a desk, Valerie said. It was open to page 105, which describes the river.
"The challenging rapids begin with Entrance Falls, a short ways above Damnation Alley," the book states. "'Entrance' is a steep drop that is hard to see over but is only a IV at medium water."
The river was running high, but not dangerously so, Walsh said.
"It's a really technical river, and Brian is a strong, excellent paddler, so it is not above his skill level at all," he said.
One of the Wyoming boaters posted a report on a paddling Web site called Mountain Buzz. He declined to give his name or be interviewed, but Valerie Stothart said the account was accurate.
The man, using the screen name WyoPadlr1, said the group traveled to just above Damnation Alley without incident. Other people in the party had stopped in various eddies before the spot where they planned to get out of the Encampment to scout the rapids.
Stothart tried to make it to an eddy he expected to find behind a large rock on the right. WyoPadlr1 described what happened at about 11:45 a.m. that day:
"Brian's boat was completely perpendicular to the river as he went over the drop, facing right. He appeared to hit a large fan-rock and gain quite a bit of vertical height, then he dropped out of sight. No one saw Brian exit this eddy in his boat. One member of the group, probably the farthest upstream, saw Brian's boat enter Damnation proper upside down after a considerable time delay (15-20 seconds)."
The other boaters searched for him in the area and downriver, finding Stothart's boat five or six miles away. They called Carbon County rescuers, who searched that evening and again the next day in helicopters, in boats, on foot and on horseback.
"Where he was and where he missed the eddy it was just a lineup of really bad situations, and it was an accident," Walsh said. "There was nothing he could do where he was to get out of the situation."
Walsh, Ferguson, Ferguson's brother, Haugh and other friends have searched for Stothart. Walsh and Ferguson recovered his boot and his helmet, marked "Tig." They've also placed a plaque, photos of Stothart with his family and a life vest on trees near the accident site. Friends have left notes to Stothart on the vest.
Searchers were out this weekend on foot, on horseback and in a helicopter. A sheriff's deputy found Stothart on Saturday, and searchers got him out of the river Sunday, Valerie Stothart said.
"It was the persistence, I believe, of Brian's good friends going up there over and over again : I think it put out the urgency to try to help find him and work together," she said.
Haugh said last week that he knew the risks of boating but still was surprised to hear about the tragedy.
"He was my No. 1 boating buddy. : It was kind of hard for me to get my arms around," he said. "I never thought Brian was going to die on the river."
Ferguson said it was natural to try to help find Stothart.
"I don't really have a big, close family or anything, so I take my friendships pretty seriously," Ferguson said. "So when I heard that he was there, I had to do something."
Athlete and intellectual
In addition to boating, Stothart telemark skied, Alpine skied, snowboarded, skateboarded, fly fished, sailed, cooked and mountain biked, Valerie Stothart said.
He grew up in Florida and Utah and attended high school at the Deck House School in Maine, graduating in 1992. He had been in Steamboat off and on since the early 1990s, Valerie Stothart said.
Stothart got his bachelor's degree in chemistry from Fort Lewis College in Durango in 2001, worked at ACZ Laboratories, received his land-surveyor-in-training designation and had enrolled at Great Basin College for a degree as a public land surveyor. Stothart also had taught canoeing, his wife said.
Valerie Stothart called her husband brilliant and witty.
"I'm lucky to have known him, and I'm lucky to be the mother of his kids," she said.
The community has supported the family since Stothart's disappearance, she said.
Freshies owners Kristy and Scott Fox have given food, as have the Diemers at Johnny B Good's Diner and the Stotharts' neighbors. Custom Color helped when Valerie Stothart wrecked her car.
"It's those small acts of kindness, it's those little things that just keep you going," she said.
They plan to have the services at Little Toots Park because it was near the Yampa River that Stothart loved. He also enjoyed eating at the Double Z, which is why his wife plans to have the restaurant cater the memorial.
She said the family was trying to move forward.
"We just didn't get enough time with him," Stothart said. "Not nearly enough."