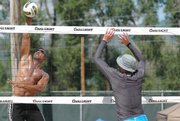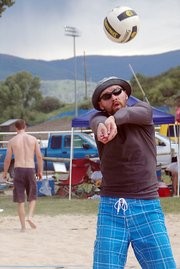 Steamboat Springs — A gathering storm east of town didn't shift the course of the debate at all.
Was it the volleyball that brought such a large crowd or the party atmosphere unmistakably drifting through the air?
"I'd say it's about 50-50 for us," Montrose resident Jaime Clark said, relaxing in a lawn chair.
Nearly 400 competitors showed up for this year's Steamboat Doubles Volleyball Tournament.
Action raged on the two sand volleyball courts at the base of Howelsen Hill, but it stretched far beyond, filling dozens of makeshift courts fashioned out of the outfield of the area's softball fields.
Endless hard spikes sent volleyballs rolling everywhere, and the cries of a ball well struck and groans of a block just missed nearly drowned out even a coal-loaded train that rumbled past on nearby tracks.
"This is a loaded tournament," Jamey Martin said, catching his breath after he and his playing partner, Myk Zerebeckyj, dispached their first opponents, 21-17, 21-15.
He should know. Martin and Zerebeckyj are veterans, not just of Steamboat's long running tournament - Martin has been 10 times and Zerebeckykj, eight - but of sand volleyball tournaments throughout the state.
Martin's been on the winning men's open team three times already, capturing the title most recently last summer.
He took second at a tournament in Vail, losing to Zerebeckykj's team earlier this summer, but he teamed up with his opponent to win a tournament last year in Breckenridge.
"Volleyball is cyclical," Martin explained. "Occasionally, there will be a down year, but this year, this tournament is stacked. There are a lot more men's teams here this year and a lot of grass teams, too. It just keeps getting bigger."
As compelling as the action on the court was, it was hard to miss everything happening off it. Competitors threw up tents everywhere there were courts, but most of them were centered on the two sand volleyball courts.
The crowd cheered every diving save and flying spike, many saluting with a cold beer in one hand.
Music filled the air as bikinis filled every man's eye.
Clark and her playing partner, Amber Gardner, fell from the women's grass B bracket after finishing third, going 3-2 in their six-team pool. Only the top two teams advanced. With the action over early in the day, the pair lounged under a canopy, slipping out only occasionally to soak up some sun.
"We're having a lot of fun," Clark said. "The best thing is, we got it done in the morning, and we have the rest of the day to have fun."
Her weekend isn't over. She'll most likely take the court again today in the coed portion of the tournament.
Even on a warm day, no one was sweating any frustration over games lost.
"It's great. It's not far from home, and you get away for the weekend to hang with a bunch of people you know," Martin said. "We sit, drink and have a good time. Everyone is pretty supportive of everyone else. It's all fun among good friends."
The tournament will continue today with the final wrapping up at about 6 p.m.