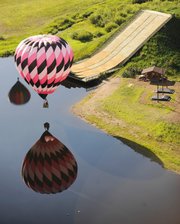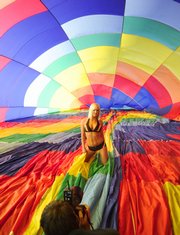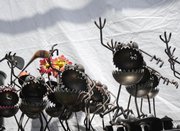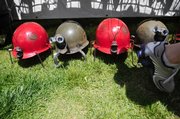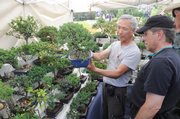 If you go
- Art in the Park continues from 9 a.m. to 4 p.m. today at West Lincoln Park, 13th Street and Lincoln Avenue. Admission is free; donations to the Steamboat Springs Arts Council will be accepted at the gate. Live entertainment and interactive arts offerings will take place throughout the festival.
- The 29th annual Hot Air Balloon Rodeo also is today at Bald Eagle Lake. The launch field opens at 6 a.m., with balloons inflating at 6:30 a.m. and taking off at about 7 a.m. They leave from Bald Eagle Lake, off U.S. Highway 40 south of Steamboat Springs; free parking is available at the Meadows Lot at Pine Grove and Mount Werner roads. No parking is available at Bald Eagle Lake.
Steamboat Springs — Kiddos turned taters into pieces of art and sent them down a ramp Saturday, pipe cleaners waving and googly eyes awhirl.
Ten-year-old Sam Troller was among the participants in the "Veggie 500" race at Art in the Park. He jammed four wheels into the sides of his potato, jazzing it up with orange pipe cleaners looped back like wings and a yellow feather in front. He adjusted the wheels after the potato racer spun on its first ramp run.
"I just wanted it to be small and fast," Sam said about his strategy. "I wanted to make it look like a samurai."
He also gave it a personal touch.
"I named it after me," Sam said.
Diane Davis, who owns the Steamboat Arts & Crafts Gym, guided children into the KidSpot. There, they made potato cars, painted rocks and decorated tiaras. Suggested donations for each activity went to the Steamboat Springs Arts Council, which organizes the annual Art in the Park. It continues today, as does the annual Hot Air Balloon Rodeo.
Davis said she came up with the vegetable race idea last year with Rachel Radetsky, the council's events and facilities coordinator. They used corn and zucchini last year and switched to potatoes this year. The feature seemed to be a hit.
Children crowded the tent at West Lincoln Park. Nine-year-old Amber Elliott stuck two pipe cleaners of each color into her potato. She curled the tops of each of the 20 bright, pliable sticks.
Her favorite part was "probably making all the curlies," Amber said.
Davis waved the checkered flag to launch each race.
"You can go ahead and do it again, as many times as you want," she told a group of competitors.
"Gravity is free," joked a dad on the sidelines.
Hundreds of tourists and locals crowded the 35th annual Art in the Park. The free event includes more than 150 vendors this year, as well as music and theater performances.
Saturday was plenty warm and sunny, and shade was at a premium. People crowded toward the trees with fried potato twists, gyros, funnel cakes and frosty lemonades.
"Are you guys charging for shade?" one man joked. "What is it, 10 bucks? Got change for a 50?"
Paul Peng's tree-filled booth was busy, but it didn't have anything to do with the shade. You'd have to do some high-level yoga to squeeze under one of his bonsais. Peng brings the tiny trees to Art in the Park from his Los Angeles home each year.
He's come here since 1995 representing Lily's Bonsai, which is named after his wife. Peng said he has repeat local customers who enjoy cultivating bonsais.
He provides instructions to customers about how to care for their bonsais. They need to be watered every two days, they need fertilizer every three months and must be trimmed only once a year.
They do grow a bit, Peng said, and need to be repotted every few years.
The Chinese art is 1,700 years old, he said, and it's relaxing.
"It's so peaceful - very calmed down," Peng said.
And make no mistake about his role at the fair: The trees are a work of art, he said.
"Bonsais are a personal art, a living art," Peng said.