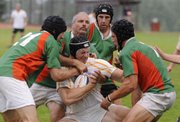 Steamboat Springs — As good as Charlie Pappas' week has been, it's hard to argue the best moment didn't come in the conclusion of an epic final match at the 35th annual Cow Pie Classic Rugby Tournament.
Rain, wind, wet field, sloppy ball and two teams in Steamboat and Wyoming that have a checkered past and Pappas' stage was set.
The Steamboat native got the ball in 27th minute of extra time, weaved his way through two defenders and slid through the mud for a try that gave the Steamboat Springs Rugby Club a 5-0 win.
"I called for the ball on the right," Pappas said amidst a downpour of rain and celebratory beer. "I had two guys to beat, and that was it. They couldn't catch me."
When William Webb Ellis invented rugby in 1823, he might have envisioned a game like Saturday's finals.
Steamboat - winner of the previous two Cow Pie Classics - was pitted against Wyoming, a team that won it seven years before.
After each had breezed through pool play, the storms started to roll in. But the rain and slop only added to the drama.
Playing 20-minute halves, the two sides each had opportunities to take leads in regulation. But the rain evened the playing field, and the 40 minutes just weren't enough.
Steamboat had the best chances early in extra time. The first came when Steamboat captain and coach Michael Hurley kicked a ball deep and went to retrieve his own ball. With an open field in front of him, the wet ball slipped out of his grasp. The second came just minutes later when Robbie Shine appeared to score the game-winner for Steamboat, but a questionable knock-on erased the try.
But at the 27th minute of extra time, Pappas found his opening.
"No, I think we pretty much knew we were going to win," said Erik Wernig, who Hurley named Man of the Tournament afterward. "It was a must-win situation. We weren't leaving our pitch losers."
As epic as the championship game went, Steamboat was dominant in pool play.
Steamboat decidedly beat Fort Collins, Glenwood Springs and Boulder by a combined score of 70-0 in the first three games.
Led by the strong play of Bjorn Utu, Pappas, Chris Baumann and Mark Monger, Steamboat cruised through the first three games.
"Two years running, we came in as the team to beat," Pappas said. "Everybody came out wanting to give us a beating - Glenwood especially. They came out real hard against us."
But in each of the pool play games, it was no more than an afterthought whether Steamboat was going to win.
The green and orange took advantage early in each contest and thwarted numerous opportunities from the opposition.
And by the time Steamboat reached the final, it was tough to imagine that it would be denied its third straight Cow Pie Classic title.
"We've got a lot of pride and passion," Hurley said. "We have guys that the jersey means something to. It wasn't an easy road. Once we got used to winning, it kind of snowballed from there. I couldn't be prouder of the guys. This was a defining moment for the club."