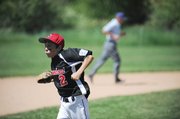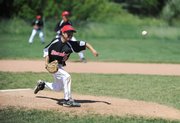 Steamboat Springs — It was almost expected that when playing the first game of the district Little League tournament, the Steamboat Springs 11- and 12-year-old team would come out with some nerves.
But it also was certain the three-time defending district champions would respond in a big way. So, after a rough first inning Saturday, Steamboat responded resoundingly, putting away Summit, 12-2, in a game shortened to five innings.
"I think first-inning jitters really hit us (Saturday)," Steamboat coach Tim Bishop said. "(Pitcher) Koby (Bishop) struggled throwing strikes. I was happy limiting them to two runs."
Regarded as the two best teams in the bracket, Summit and Steamboat looked destined for a back-and-forth game.
Summit loaded the bases with no outs in the first inning and managed to push two runs across. Steamboat responded with two runs of its own in the bottom half of the inning to tie the score at 2.
Heading into the bottom of the third inning, Steamboat finally got the bats going. With two on and two out, Danny LaPointe hit a line drive, two-run double down the right field line to put Steamboat up, 4-2. Then in the fourth, Camden Lawhead came back with a two-out, two run single of his own to put Steamboat up, 7-2.
Steamboat added five runs in the bottom of the fifth - in large part to a bases-clearing double by Jesse Pugh - to put the game away.
"We're a good hitting team," Tim said. "I think we were way too complacent. We were fighting through that and started driving the ball."
It also helped that Koby settled down on the mound. Limited to 85 pitches in a game because of Little League rules, Koby looked like he might not make the whole game. He threw 28 pitches in the first inning, gave up the two runs and two hits.
But from there, he was nearly untouchable.
He retired 12 of the last 14 batters, threw just 77 pitches and finished the day with a complete game, three-hitter. He also struck out seven.
"I don't know, I think we were all just a little nervous," Koby said about the slow start. "We beat them, but I think it's the nerves of the first game. I was missing spots. But I just got my focus down and shut them down."
Steamboat now has a day off before playing in the championship game at 5:30 p.m. Monday at Emerald Green.
There's a chance the team will see Summit again.
Still, Tim said that at this point, it's not who the opponent is - it's how Steamboat plays.
"If we make (state), we have to score a lot of runs," he said. "That's our only chance. We're happy with just giving up two in the first and then shutting them down."
In other district baseball action, the Steamboat 9- and 10-year-old team beat Summit, 18-7, in Summit.