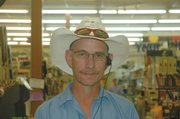 Age: 47
Occupation: Area manager, Ace at the Curve
Place of birth: Golden
Q. When did you move to Routt County, and what brought you here?
A. 2003. Fishing, hunting, small town.
Q. What's the biggest risk you've taken recently?
A. Becoming an area manager at Ace.
Q. Describe your morning routine.
A. Up at 7:30 a.m., feed the dogs and carpool to work.
Q. Has a book ever changed your life? What was it, and why?
A. "The Horse Whisperer." I'm better with horses.
Q. What's the best piece of advice you've ever been given?
A. There are only two rules: 1. Don't sweat the small stuff. 2. It's all small stuff.
Q. What three things would you want people to know about you?
A. I'm friendly, I'm from the country, and I like to hunt.
Q. What did you want to be when you grew up?
A. A pro cowboy bull rider.
Q. If you could invite any four people to dinner, who would they be, and what would you talk about?
A. Joe Sakic, Keith Urban, Todd Helton and Blake Shelton; music and sports.
Q. Do you collect anything?
A. Baseballs.
Q. In the Meatloaf song, "I'd do anything for love, but I won't do that," what is that?
A. Give up on it.
Q. What was your first job?
A. Ranch hand.
Q. Who is your favorite superhero? Why?
A. Spiderman; he's able to shoot webs.
Q. Do you have any phobias?
A. Spiders and snakes.
Q. If you could go back in time, to what event or time period would you go?
A. Old West.
Q. What is your favorite thing to do in Routt County?
A. Fish and hunt.
Favorites
Book: "The Horse Whisperer"
Song: "Austin," by Blake Shelton
Color: Green
Food: Meatloaf
Sport to watch: Baseball
Recreational activity: Fishing and camping
Movie: "Tombstone"
Magazine: Buckmaster
Do you know someone interesting who you would like to see profiled? Call Margaret Hair at 871-4204 or e-mail her at mhair@steamboatpilot.com