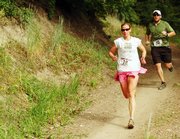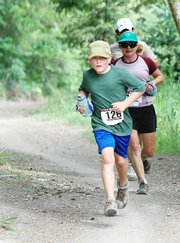 Results
Men's 8-Miler
1. Matt Hill, 58:44
2. Josh Smullin, 58:55
3. Garrett Taylor, 59:14
Women's 8-Miler
1. Amanda Nilsen, 1:04:48
2. Jenna Gruben, 1:08:23
3. Eve Stephenson, 1:13:58
Men's 4-Miler
1. Erik Ramstad, 30:55
2. Darrell Bruder, 36:36
3. Rick Guthre, 38:00
Women's 4-Miler
1. Missy Krause, 35:16
2. Rachel Humes, 36:38
3. Ann Flynn, 37:09
Steamboat Springs — The Howelsen Hill 8-Miler is far from the largest event in the Steamboat Springs Running Series. The Steamboat Marathon boasts more than 20 times as many competitors. The Run Rabbit Run 50-mile trail run is more than six times as long and a far greater challenge.
Still, athletes from across the region traveled and toiled up the slopes of Howelsen Hill bright and early Saturday morning. Many were familiar names, but many new adventurous souls found just the challenge they were looking for in the early morning competition.
A busy weekend in Steamboat helped the annual 8-mile race to another successful year.
"I did it last year, too," Denver resident Virginia Singer said. "All of my friends play in the volleyball tournament, so I started running in this race. It's always a fun weekend."
In addition to the namesake 8-mile race, the event also featured a 4-mile race, which Singer competed in.
"When you got up there, you could see all the balloons taking off," she said. "The trail was awesome."
Matt Hill, a former Steamboat Springs High School runner who competes for Western State College in Gunnison, won the men's 8-Miler in 58 minutes, 44 seconds, ahead of Josh Smullin's 58:55. Garrett Taylor was third in 59:14.
Erik Ramstad won the men's 4-Miler in 30:55. Darrell Bruder was second in 36:36, and Rick Guthre was third in 38:00.
Missy Krause won the women's 4-Miler in 35:16. Rachel Humes was second in 36:38, and Ann Flynn was third in 37:09.
Amanda Nilsen was the women's 8-Miler champ, finishing in 1:04:48. Jenna Gruben was second in 1:08:23, and Eve Stephenson was third in 1:13:58.
Nilsen, like Singer, traveled from Denver for the chance to run. She made the trip with a few friends, who also tackled the 8-mile race.
"We camp and make a weekend out of it," she said. "It's a great excuse to get out of Denver, and it's a pretty good training run for other races I'm planning on running."
The day wasn't about times and places for everyone, though.
Cheryl and Tim Krumrie live in a Kansas City suburb and are in the middle of a five-week vacation at their Stagecoach-area home.
Cheryl Krumrie ran the 4-mile course and said it offered the right amount of challenge.
"We're avid runners, but this is the first time we've ever run a trail race," she said. "It wasn't as hard as I expected. You had some inclines, but you had flats you could really recover on."
Tim Krumrie, who tackled the 8-Miler, started 166 games for the Cincinnati Bengals, appeared in two Pro Bowls and played in the 1988 Super Bowl. He's now a defensive line coach for the Kansas City Chiefs.
"It was great. It was challenging. The climbs were great, the terrain was great and the trails were different," he said. "If you're someone not used to running trails, it keeps you on your toes.
"I love it. It's great to be around people who enjoy a race. They're all doing it because they love to be outside."