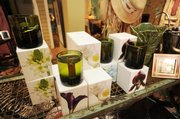 On the 'Net
Visit Room 635 Steamboat here
Visit Steamboat Oxygen here
Visit Steamboat Lake Lodge at Hahn's Peak here.
Steamboat Springs — Room 635 Steamboat is the place to go "when cowhides and antlers is not what you need."
That's how Jeff Barnes describes the new store in Old Town Square that offers interior and floral design services, gifts, antiques and event planning. Barnes and his mother, Susann Singleton, recently moved from Houston to open the store. They also are opening an oxygen bar in a kiosk in front of Old Town Square and have purchased the Hahn's Peak Inn, which they are reopening and renaming Steamboat Lake Lodge at Hahn's Peak.
"We're really anxious to let the locals know we're here," Singleton said. "Primarily, we'll use the store as a home base for interior design and creative services. : We just feel like we have a different mix of things here than other stores."
Specifically, Barnes and Singleton said they want to provide options for people who don't want their home to look like a ski lodge - at least entirely.
"Why couldn't it look some other way?" said Barnes, who has an art history and photography background and also is Room 635's floral designer. "There's no reason why you can't mix some of that with a really beautiful French chair or French mirror, which would make it, ultimately, more interesting, I think."
Barnes and Singleton said they travel to Paris and the south of France regularly to scour for unique and attractive antiques, gifts, furniture and fixtures. Room 635 is open from 10 a.m. to 6 p.m. daily and by appointment. A grand opening is scheduled for Aug. 6, and a percentage of the store's proceeds from that day will be donated to the Perry-Mansfield Performing Arts School and Camp.
Barnes and Singleton said they are waiting for equipment to arrive for their oxygen bar, Steamboat Oxygen, which they hope to have open by the end of the week. The bar will offer plain or aromatherapy oxygen at a 90 percent concentration. Earth's atmosphere is about 21 percent oxygen.
Oxygen bars - where patrons sniff oxygen recreationally through a plastic hose inserted in their nostrils - originated in Japan and were introduced in the United States in the late 1990s.
According to a 2002 Food and Drug Administration article, "Oxygen fans tout the benefits of oxygen as reducing stress, increasing energy and alertness, lessening the effects of hangovers, headaches and sinus problems and generally relaxing the body." The American Lung Association says inhaling oxygen at oxygen bars probably does not have any positive physiological effect but also has not shown to be dangerous for people with normal health.
Inhaling concentrated oxygen can be dangerous for people with certain medical conditions, according to the FDA, which also is concerned about scented oxygen.
Singleton said oxygen bars are great for people who are tired, jet-lagged or bothered by the altitude.
"I know they're really popular in Breckenridge and Aspen," Mainstreet Steamboat Springs manager Tracy Barnett said. "They're supposed to make your brain clearer. I'm going to try it first thing."
Singleton said Steamboat Oxygen will provide music and free wireless Internet. A session will cost $15 for 15 minutes.
"It rejuvenates you," Singleton said.
Barnett said Barnes and Singleton's businesses are just two of many that recently have sprung up or expanded downtown.
"That whole Old Town Square is full, and it had a bunch of holes in it before. The more spaces we have filled, the better downtown looks," said Barnett, who noted there still is about 30,000 square feet of vacant commercial space downtown. "We don't feel depressed downtown, but we still have quite a bit to go."
The mother-son duo hopes to open Steamboat Lake Lodge at Hahn's Peak in August as a bed and breakfast and contemporary bar, as well as a place that will offer horseback riding, snowmobiling and other activities. Reservations can be made by calling 1-800-204-9618.