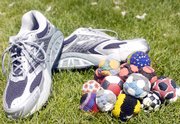 Steamboat Springs — Peter Shunny bristles when it's suggested that he's become an elder statesman in the sport of footbag.
"Hey," he said with a smile, nodding to his longtime playing partner, Bruce Guettich. "He's older than I am."
Maybe so, but there's no denying the role the Steamboat Springs pair plays to the small-but-growing sport.
They will travel Friday to Berlin for the 30th annual International Footbag Players Association World Footbag Championships. For Guettich, it will be his 28th time in the brightest spotlight his sport can offer. Shunny has competed in the event 25 times.
"I just feel blessed," Guettich said. "Really, when we got out to practice, I get as excited today as I did the first day I kicked a footbag."
Clearing the net
The pair has run the gamut of the sport of footbag, competing in the freestyle and footbag net competitions.
Freestyle challenges competitors to do tricks with the bag, flipping it up and around their body before catching it with the other foot.
Footbag net is almost the synthesis of soccer and badminton. Competitors flip the bag back and forth over a 5-foot-tall net, serving, receiving and even spiking the bag with their feet.
In their younger days, Guettich and Shunny were among the world's foremost freestyle competitors.
Watching them pass one of their bags - produced by their Steamboat-based company, World Footbag Association - it's obvious those skills haven't deteriorated. Rarely did the footbag find the grass as they warmed up for one of their final pre-Berlin practices Friday morning in downtown Steamboat.
They kept it alive by launching it off their carefully chosen shoes (the flatter the sidewalls, the better), by doinking it off their forehead and by knocking it high off their heel. They spun to whip the bag back and collapsed to all fours in the wet grass to reach extra far and catch a bag with a toe.
But, faced with hard-to-match creativity and skill from an ever-growing younger generation, freestyle's no longer the game they travel to participate in.
Now, it's footbag net. The two will compete individually and in the pairs division, in the open and masters classes.
The idea of facing mostly younger competitors doesn't faze the veterans.
"As long as we stay in shape and play smart and place the bag where the other person is not, the aggressive part of the game can follow," Guettich said. "As long as we're accurate with our shots and we maintain that kind of skill, we don't have to be real acrobatic or powerful over the net."
Living legends
Despite plenty of trips to the championships, Guettich and Shunny haven't come away with any open titles.
It still looms as a goal, however.
"There's a lifelong dream," Guettich said. "What it would do for my ego is off the charts. It would be like John McEnroe coming back to beat Roger Federer."
Maybe, but Guettich might be selling his chances short, too. He's finished third twice, in 1983 and 2003, and he was fourth in 2006.
He and Shunny have captured the masters (35 and over) doubles title, and Shunny won the masters singles title.
"Anyone can win it," Shunny said. "It's about having that determination and putting the time in to learn some great shots and having luck on your side."
It's not just their continued competitiveness that has set Shunny and Guettich onto a different level. That much is obvious with a trip to their Steamboat-based footbag company.
Their vast variety of footbag products - everything from cheap crocheted bags filled with plastic pellets to expensive leather pouches packed with metal ball bearings - line a row of glass cases. The cases are filled with the relics of the sport, including photos of the founders of the well-known Hacky Sack brand and a few of their original bags.
It's a museum for the sport that has allowed them to travel the world for shows and competitions.
"There is prize money on the line in Germany, but that's not why we're going," Guettich said. "We'll do it for the same reason anyone who has a tennis racket might just go play under the lights at Howelsen for two hours. It's just a fun thing to do, and you get exercise along the way."