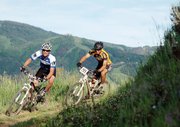 Results
Emerald Mountain Cross Country Town Challenge
Men's Pro Open
1. Brad Bingham, 47:22
2. Peter Kalmes, 49:08
3. Jamie Morgan, 51:05
4. Adam Parke, 51:49
5. Essam Welch, 51:59
6. Craig Rench, 52:32
7. Chad Eskins, 53:24
8. Jon Freckleton, 54:23
9. Chris Tamucci, 54:26
10. Jon Cariveau, 54:27
11. Sam Chovan, 54:36
12. Sean Geisler, 54:56
13. Doug Karet, 55:51
14. Chad Gruben, 56:35
15. Carl Spangler, 57:55
Men's Expert 19 to 29
1. Matt Eggen, 57:47
2. Tim Nylen, 59:04
3. Scotty Johnston, 1:11:04
4. Garrett Burns, 1:22:11
Men's Expert 30 to 39
1. Jeff Keller, 53:18
2. Bud Whitehead, 53:54
3. Jeff Minotto, 54:53
4. Matthew Pronolost, 55:45
5. Joshua Enck, 56:47
6. Seth Lorson, 58:01
7. Jeff Boswell, 58:17
8. Kevin Hendrickson, 58:52
9. Evan Soard, 59:30
10. Anthony Urbick, 1:06:16
Men's Expert 40+
1. Pat West, 54:33
2. Ron Famiglietti, 54:44
3. Scott Myller, 54:57
4. Sars Larson, 56:09
5. Rick Hager, 56:14
6. Roy McKinstry, 57:25
7. Marc Sehler, 57:52
8. Chris Mitchell, 58:04
9. Brad Piske, 58:05
10. Pj Wharton, 58:08
11. Bob Stack, 58:14
12. Robin Craigen, 58:18
13. Rick Hodges, 58:19
14. Dan Lemmer, 1:00:09
15. Scott Blair, 1:00:10
16. Stephen Dressen, 1:03:15
17. Dan Vargas, 1:04:00
18. David Dietrich, 1:04:47
19. Jeff Hostetler, 1:05:53
Men's Sport 19 to 29
1. Jt Peebles, 49:47
2. Alex Pond, 51:06
3. Jeffery Gay, 52:31
4. Kellen Baker, 54:51
5. Garrett Smith, 54:55
6. Jon Winkelblech, 55:51
7. Mark Dennis, 56:18
8. Travis Brookie, 1:04:39
Men's Sport 30 to 39
1. Wes Fountain, 50:25
2. Jeff Snook, 52:17
3. Bob Kastor, 54:02
4. Adam Wright, 56:02
5. Jeremy Schumacher, 58:53
6. Thomas Reuter, 59:15
7. Trent Jones, 1:09:51
Men's Sport 40 to 49
1. Darrin Fryer, 50:45
2. Mel Stewart, 52:31
3. Chris Arnis, 54:26
4. Chris Keiss, 55:59
5. Walter Magill, 56:00
6. Bobby Aldighieri, 56:39
7. Andreas Sauerberey, 56:49
8. Jeff Olsen, 57:25
9. Chip Ellis, 58:43
10. Richard Sterling, 1:00:57
Men's Sport 50+
1. Sandy Horner, 51:24
2. Thomas Scrimgeour, 55:56
3. Peter Daley, 55:56
4. Win Park, 56:03
5. Boyd Bass, 59:55
6. Steve Faulkner, 1:00:12
7. John Thrasher, 1:00:13
8. Brian Small, 1:00:14
9. Rick Denney, 1:03:20
Men's Novice 19 to 24
1. Antonio Jaranna, 1:03:09
Men's Novice 35 to 49
1. Andy Weynand, 57:42
2. Scott Colby, 59:30
3. Mike Malone, 1:00:32
4. Sym Colovos, 1:06:11
5. Steve Harrison, 1:11:12
Men's Novice 50+
1. Denni Kissler, 1:05:16
2. Peter Hoey, 1:12:46
3. Neil Ganz, 1:14:22
4. Mike Nartker, 1:17:05
Women's Expert
1. Kelly Boniface, 56:07
2. Tammy Jacques Grewal, 1:00:18
3. Katie Lindquist, 1:01:55
4. Kate Rench, 1:04:49
5. Kathleen Fitzsimmons, 1:06:25
6. Hadley Nylen, 1:06:31
7. Linnea Dixson, 1:07:10
8. Jessica Maniaci, 1:08:28
9. Jamie Gay, 1:17:35
Women's Sport 19 to 29
1. Genevieve Dice, 59:12
2. Kristen Stemp, 1:00:34
3. Kristen Moore, 1:00:40
4. Sarah Dixson, 1:10:04
5. Bryanna Vogt, 1:10:48
6. Amy Zutterling, 1:11:39
Women's Sport 30+
1. Rose Alford, 58:17
2. Maria Linna-Russell, 59:56
3. Mary Ann Keiss, 1:00:30
4. Laura Soard, 1:00:36
5. Deb Rose, 1:00:40
6. Jen Howland, 1:06:48
7. Krista Check-Hill, 1:07:27
8. Riley Polumbus, 1:14:40
9. Renee Dupre, 1:14:45
Women's Novice 19 to 34
1. Jennifer Sliney, 31:35
2. Heather Craigen, 33:32
3. Kim Hornsby, 35:50
4. Lane Malone, 36:32
5. Jenn Warren, 37:22
6. Julie Hagenbuch, 49:02
7. Heidi Nunninkoven, 55:20
8. Nora Dwyer, 57:53
Men's singlespeed
1. Dereck Fish, 56:09
2. Dave Fisher, 58:19
3. Jp Pougiales, 58:44
4. Jonthan Wheby, 1:06:22
Women's singlespeed
1. Karen Tremaine, 1:01:19
2. Marla Bailey, 1:15:52
Youth Male 13 to 15
1. Jim Vanderbeck, 27:51
2. Nate Bowman, 29:08
Youth Male 16 to 18
1. Wilber Ranieri, 54:40
2. Alec Schaffer, 59:25
3. Dane Dixson, 1:02:26
4. Wesley Park, 1:05:25
5. Aiden Rohde, 1:07:24
6. Paul Kubala, 1:26:14
Kids 6 and under
1. Andy Henderson, 00:56
2. Danial Kempers, 00:57
3. Shea Pepin, 01:00
4. Jaxson Fryer, 01:02
5. Smith Dean, 01:04
6. Logan Spiegel, 01:05
7. Andrew Lemley, 01:10
8. Rune Freckleton, 01:18
9. Sal Malone, 01:20
10. Andrew Kempers, 01:29
11. Elizabeth Lemley. 01:48
Kids 7 to 8
1. Matthew Kempers, 01:49
2. Cameron Colombo, 01:51
3. Dane Freckleton, 02:08
4. Sophia Grewal, 02:09
5. Isabelle Boniface, 02:10
6. Alex Blair, 02:18
7. Finn Russell, 02:20
8. Alex Spiegel, 03:29
9. Anna Dean, 03:47
Kids 9 to 10
1. Decker Dean, 02:56
2. Trey Seymour, 03:02
3. Elijah Varges, 03:03
4. Chase Seymour, 03:17
5. Sam Frackowiak, 03:20
6. Carson Russell, 03:47
7. Geoffrey Opper, 04:51
8. Tristan Opper, 05:10
9. Bastion Elkins, 05:11
Kids 11 to 12
1. Jett Seymur, 06:42
2. Koby Vargas, 06:42
3. Ian Caragol, 07:33
4. Tait Dixson, 07:34
5. Jack Vanderbeck, 07:56
6. Andrew Keiss, 08:13
7. Tyler Terranova, 09:11
8. Kane Park, 10:30
9. Peter Rosenthal, 10:32
Steamboat Springs — After Wednesday's challenging Emerald Mountain cross-country Town Challenge series mountain bike race, Tom Scrimgeour, Peter Daley and Win Park shared laughs, popsicles and promises to buy the first round at the post-race party.
But the hour-long dash up and down Emerald, the third event in the Town Challenge series, was about more than soaking up the tail end of a warm summer day.
"Oh, no," Scrimgeour said later. "We want to win."
Turns out, he did win, at least among the trio. Park led part of the race but slipped to third as Scrimgeour beat Daley in a sprint to the finish line.
"I just got him," Scrimgeour said, measuring the difference in the race by pointing to the first two inches of his front tire.
All that just to decide who was second.
Sandy Horner won the men's sports 50+ division by finishing in 51 minutes, 24 seconds, more than four minutes before Scrimgeour, Daley and Park dashed to the finish line.
The competition Wednesday was almost as fierce as the demanding course nearly 200 bikers assaulted.
The trail - almost all of it technical singletrack - swung up and down Emerald Mountain, through sections with rocks, tightly spaced trees and deep ruts.
Several riders struggled to the finish line with flat tires, and many made it back with scrapes and bruises from falls. Barkley Robinson, winner of the first two Town Challenge races this year, didn't finish at all after a nasty crash near the top of the course.
"It just demands your attention," Daley said. "It was narrow and grown in a lot. The visibility was limited in a lot of places."
But those who did make it said it was a heck of a ride.
"I was smiling the whole time. I almost wanted to start laughing, it was so much fun," Scrimgeour added.
Brad Bingham won the men's pro division, finishing at 47:22, ahead of Peter Kalmes at 49:08 and Jamie Morgan at 51:05.
Kelly Boniface won the women's division in 56:07, beating Tammy Jacques Grewal's 1:00:18 and Katie Lindquist's 1:01:55.
The competition was just as tight back in the pack.
After confirming that he'd come just short, Daley bowed and shook his head.
"I was just going as fast I could there," he said. "The coal bin was pretty much empty, though."
Scrimgeour chimed in one more time before the competitors headed separate ways on their bikes.
"Don't worry," he called. "I'll be here next time."
Locals shine in Firecracker 50
As floats made their way down Lincoln Avenue on Saturday for the annual Fourth of July Parade in Steamboat Springs, a massive field took to the mountain bike trails around Breckenridge. The annual Firecracker 50 attracted more than 750 riders and this year doubled as the USA Cycling Marathon Mountain Bike National Championships.
Plenty of Steamboat riders managed to pick their way through the packed field for strong finishes.
Kelly Boniface was eighth in the women's pro division, the top women's category. Barkley Robinson finished 10th and Brad Bingham 13th in the men's pro.
"It was a great course for me," Boniface said. "It started at 9,000 feet, went up over 11,000 feet and had two 25-mile laps."
Boniface finished 17th last month in the Teva Mountain Games. She said Saturday's course - much longer than the Vail trail - made all the difference.
"It was double the distance that that helped me a lot," Boniface said. "A lot of it with this race was, if you didn't crash, didn't crack or didn't have a mechanical. If you could get through clean. My bike was great all day, and I felt really good."